Exclusive
Yet More Mistresses! Chad 'Ochocinco' Johnson Was Paying Girlfriend's Rent While Engaged To Evelyn Lozada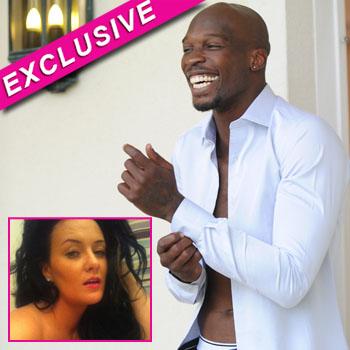 Article continues below advertisement
"Chad has been paying Amber $2000 a month for her apartment and flying her in and out of Miami so they could meet up," said our insider, but now the former Black Men Magazine Model Of The Year has been evicted from her apartment on Atlanta's famous Peachtree Street, according to court documents, and she posted a plea on Twitter this week asking for help moving.
The raunchy revelations come after Chad's bombshell week that started with his arrest for domestic violence on August 11 following an explosive fight with the Basketball Wives star, who filed for divorce three days later, which led to him being cut from the Miami Dolphins and fired by sponsor Zico coconut water.
RadarOnline.com exclusively reported that a Boston woman named Beverly Shiner claims that she had a heated affair with the former New England Patriots player from January to May this year while Evelyn was busy planning their 4th of July dream wedding, and now it is clear that she was far from the only person he cheated on the reality star with.
"He would tell Evelyn that he was going out to run errands in the day time and just hook up with one of his women instead," revealed our insider. "It was easier for him to hide when they lived in separate cities but after Chad was traded to Miami in June his philandering literally got too close to home and he got caught."
Article continues below advertisement
Determined not to give the 34-year-old six time Pro Bowler up even after he got married, Amber tweeted a very telling message less than a week after he said "I do," to Evelyn. "U can marry him but he's still mine!!!" she wrote, followed by a series of crying faces.
Three days after the newlyweds' notorious violent bust-up, Priddy was relishing in their drama and ready to move into Lozada's spot. "Uh oh just got the text that my bestie Ochocinco is single. Lol U should listened to my counseling session!!!" she bragged.
The 5'4" brunette, who often flaunts her very ample assets in cheap lacy underwear in her profile photo, has posed for raunchy men's magazines that focus on lingerie or fully nude pictorials.
However, the busty dancer's main job is as a stripper at the Gold Rush Showbar in Atlanta, according to our source, which is a fully nude strip club offering dances for just $10.
Along with her bra-bursting DD bust, Amber reportedly also has butt implants and according to one raunchy website, "when she lies on her back, nothing but her ass and shoulders touch the ground."
Article continues below advertisement
Chad 'Ochocinco' Johnson Is Desperate To Win Evelyn Back, Lozada Is Sticking To Her Guns