Caribbean Nation Demanding Chad Johnson Return $90,000 It Paid To Have His Wedding There!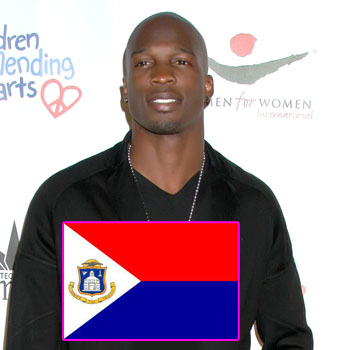 By Jon Boon - RadarOnline.com Reporter
Chad Johnson's troubles have gone from bad to worse. The government of Saint Martin has said it expects a refund of the money it spent on the football star's wedding.
The Caribbean island nation agreed to foot part of the bill for Chad's nuptials with Evelyn Lozada anticipating that the publicity generated from the duo's reality TV wedding special would bring more tourists.
Article continues below advertisement
But a month after the couple was handed $90,000 to celebrate their big day, a domestic violence incident in which Chad left Evelyn with a cut forehead, had the Basketball Wives star filing for divorce.
Saint Martin Finance Minister Roland Tuit said, "When someone is investing in business it's a risk they are taking and if something happens then they will have to deal with the consequences. Naturally, we have a contract with Johnson and that contract has some clauses inside of it and St. Maarten will use those clauses if necessary."
A representative for Evelyn exclusively told RadarOnline.com that she had never signed a contract and was unaware that a deal was even made.
According to the Saint Martin News, Prime Minister Sarah Wescot Williams was against making money available for Chad's big day.
If the contract isn't respected and VH1 doesn't ever air the Ev & Ocho wedding special, the Saint Martin government will take legal action and demand its $90,000 back.
Article continues below advertisement
And it seems likely that could happen, as RadarOnline.com previously reported, their VH1 reality show was canceled in light of the NFL player's arrest for allegedly physically attacking his new wife on August 11.
"Due to the unfortunate events over the weekend and the seriousness of the allegations, VH1 is pulling the series Ev & Ocho from its schedule and has no current plans of airing it," announced the network in an e-mail statement to RadarOnline.com.
As RadarOnline.com previously reported, the altercation started when the couple was driving home from dinner and Evelyn found a receipt for condoms in the car. The argument turned physical, Lozada told cops, and her husband head-butted her!
"She has a pretty good-sized laceration on her forehead," Davie, Florida Police Capt. Dale Engle told The Miami Herald. The six-time Pro Bowl receiver was released from jail on $2,500 bond on August 12 after being charged with simple domestic battery, a misdemeanor.
Article continues below advertisement
Chad's misery was complete 24 hours later when his contract was terminated by the Miami Dolphins.
On top of all of his other problems, a lien was launched on August 7 by a builder who worked on Chad's Florida home that says the now free agent owes him $130,000.
Jacinth Preston claims that the money is for "salary, car insurance, cleaners, landscaping, decorating."
The legal papers says that if Chad doesn't pay Preston's fees soon, his house could be foreclosed on.