Exclusive
Chad 'Ochocinco' Johnson's Domestic Violence Charge Will Follow Him Forward In NFL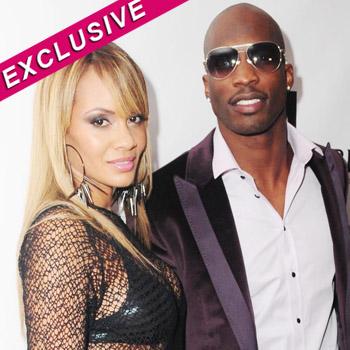 Article continues below advertisement
"The league officials make sure that fans never forget, so in this case I believe that this will linger on and initiate a lot of closed door meetings between the GM and the coach during the interview process should Chad be allowed back in the league," he said.
As RadarOnline.com previously reported, Basketball Wives star Evelyn Lozado filed for divorce from her estranged husband after just 41 days of marriage following a violent incident on Saturday when he allegedly head butted her. The six-time Pro Bowl receiver was then arrested by Davie, Florida police and released from jail on $2,500 bond Sunday.
After being picked up by the Dolphins earlier this year when the New England Patriots cut him, the wide receiver's contract was terminated by the team within 24 hours of the domestic abuse scandal, and not only is he off the team, publicity-hungry Johnson, 34, is also off the air because VH1 canceled the reality show Ev & Ocho about their Caribbean wedding that was set to air in September.
A prolific Tweeter, Chad has been slowly returning to the social media site, writing a simple "Good morning," on Thursday.
Article continues below advertisement
Bilello says that now Chad's Twitter account is going to be a focus of any NFL team that is interested in hiring the 34-year-old player.
"Teams are very focused on avoiding any type of individuals who have problems in their personal life. The league and team owners are very cognoscente of any players who are overly active on social media. God knows, Chad lived his life on Twitter it seems!"
He warned Chad that his openness on Twitter should probably be curtailed.