Exclusive
Chad 'Ochocinco' Johnson Is Desperate To Win Evelyn Back, Lozada Is Sticking To Her Guns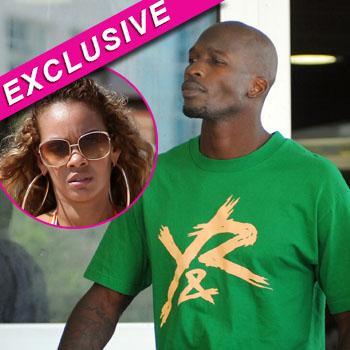 Article continues below advertisement
Within 24-hours the Dancing with the Stars alum was dropped by his football team, The Miami Dolphins, then had his reality show, Ev & Ocho canceled by VH1, then had his alleged mistress spill details of an illicit affair that she claims went on up until weeks before his marriage and finally, had his wife of 41 days, Evelyn Lozada file for divorce.
"To say this has been a bad week for Chad would be a drastic understatement," a source tells RadarOnline.com. "He is desperate to win Evelyn back, so he feels he has at least one person on his team, but she is resolute that is NOT going to happen.
"Chad has been tearfully calling and texting Ev, pouring his heart out to her and telling how sorry he is and how he has never loved anyone before as he loves her. But, it's just too little too late.
"Evelyn will not tolerate being cheated on and being physically attacked and she has washed her hands of Chad for good. She was desperately in love with him and ignored a lot of warning signs along the way, but now that she has finally woken up, she will not be taking any steps back and will not go back to him.
Article continues below advertisement
"Despite Chad's pleas for a second chance and his assurances that he will undergo counseling, Ev is sticking to her guns. It is over between her and Chad. For good. Period."
As RadarOnline.com exclusively reported, last weekend was not the first time Johnson has been accused of getting physical with the stunning Basketball Wives star.
"Chad has been abusive towards Evelyn basically from the beginning of their relationship," a source close to the couple said. "Chad doesn't like Evelyn's party lifestyle and it made his anger worsen. He hated the way she acted on TV and would often lash out at her for any little thing."