Relaxed And Ringless! Evelyn Lozada 'Reflecting On What Happened'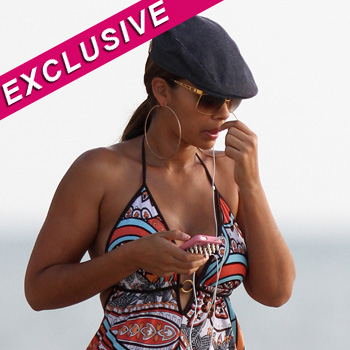 Article continues below advertisement
"Evelyn was staying at a friend's house prior to her trip to Barbados and decided to take a walk on the beach because she has been indoors since the incident occurred," a friend of the reality star exclusively told RadarOnline.com.
"She just wanted some fresh air to reflect on things that have happened within the past two weeks and move on with her life," the pal explained, who added that Lozada was soaking in the ocean air before heading to the airport to board her flight.
More than just a fashion accessory, the stylish black cap also covered the spot on her head that was lacerated and stitched up after Johnson, 34, allegedly head butted his wife of 41 days in the attack on August 11 after she found a receipt for condoms in his car.
Lozada's determination to cut ties with her wayward ex comes in light of exclusive revelations by RadarOnline.com that the shamed NFL player had been cheating on her with a string of mistresses that he met on Twitter, including a stripper whose rent he was paying and a woman who he flaunted at his local hangouts and high school football reunion.
Article continues below advertisement
"He would tell Evelyn that he was going out to run errands in the day time and just hook up with one of his women instead," revealed an insider. "It was easier for him to hide when they lived in separate cities but after Chad was traded to Miami in June his philandering literally got too close to home and he got caught."
The 37-year-old Basketball Wives star filed for divorce from the former six-time Pro Baller three days after the assault for which he was charged with simple domestic battery.
Along with being ditched by his wife, Johnson was also cut by the Miami Dolphins that week and fired by sponsor Zico coconut water.
Evelyn's current Caribbean getaway will be the first time she has gone back to the vacation area since she and Chad tied the knot in a dream wedding on the island of St. Martin on the 4th of July. Their nuptials were captured on film by VH1 but the special show, Ev & Ocho, will not air next month as planned.