Exclusive
Chad 'Ochocinco' Johnson Scores Dates On Twitter, Third Mistress He Picked Up There Is Revealed!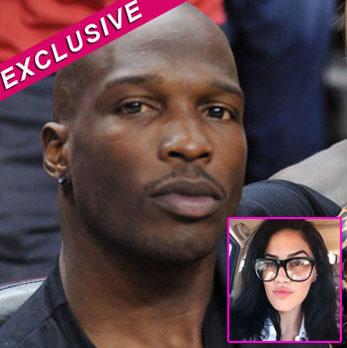 By Debbie Emery - RadarOnline.com Reporter
Chad 'Ochocinco' Johnson's addiction to Twitter led to the downfall of his NFL career, and now RadarOnline.com is exclusively reporting that his sleazy habits on the social networking site doomed his marriage to Evelyn Lozada before she had even walked down the aisle.
"He is constantly scouring Twitter flirting with women, and if he sees someone he likes he has them direct message their number to him so they can meet up in person," a source exclusively told RadarOnline.com.
Article continues below advertisement
EXCLUSIVE: Check Out Chad Ochocinco & Third Mistress' Flirty Tweets
The disgraced former NFL star has been carrying out a number of illicit affairs with several women for the past year, said the insider, during which time he took them to his favorite bars, brazenly tweeted with them and even let one girlfriend drive the Smart Car that Basketball Wives star Lozada bought him!
The raunchy revelations come after Chad's bombshell week that started with his arrest for domestic violence on August 11 following an explosive fight with Evelyn, who filed for divorce three days later, which led to him being cut from the Miami Dolphins and fired by sponsor Zico coconut water.
RadarOnline.com was the first to report that a Boston woman named Beverly Shiner claims she had a heated affair with the former New England Patriots player from January to May this year after she met him on Twitter while Evelyn was busy planning their 4th of July dream wedding, and now it is clear that she was far from the only person he cheated with.
As we previously reported, the six time Pro Ball player was also allegedly dating stripper Amber Priddy from Atlanta, Georgia, who he paid $2,000 each month to cover her rent, but now that Johnson is unemployed and facing numerous legal and financial woes, his girlfriend has been evicted from her home.
Article continues below advertisement
"Chad has been having an affair with another woman from Miami named Bianca Zuluaga for the past year," our insider revealed, and the sexy brunette seems hell bent on telling the world about their relationship on Twitter.
"Whenever she refers to 'chocolate' in her tweets, she is talking about Chad and admits that she has 'Jungle Fever' and loves chocolate men," said the source.
Just two days before Chad walked down the aisle with Evelyn in an exotic wedding on the Caribbean island of St Martin, Bianca tweeted: "Some people on my Twitter need to stop hating my preference for chocolate!!!" And in earlier postings she expressed her desire to see her tall, dark man. "I can't take this anymore I need chocolate!!! My body is going into shock!"
"Chad would mostly spend time with Bianca while Evelyn was out of town on her book tour or filming," explained the source. "They would even meet at David's Café in Miami, which is one of his regular hangout joints and they didn't go to any lengths to hide the fact that they were there together."
On June 16, the football player tweeted from the restaurant that he was watching ESPN there, and less than an hour later his alleged lunch date wrote: "David's Café, I'm back! And I've missed you… but the company sucks forever tweeting."
Article continues below advertisement
Johnson's addiction to the social networking site, which included him live tweeting on his wedding day, was part of his career downfall and added to the premature demise of his football career, with Dolphins coach Jim Philbin severely reprimanding the wide receiver for it during his brief time on the team.
Another of Bianca's telling tweets from June expresses her joy ride in a Smart Car, the same electric vehicle that Evelyn bought for Chad that ended up being the scene of his domestic abuse crime after she found a receipt for condoms in it.
Even the final nail in the coffin of the tumultuous couple's marriage seems to be a source of amusement for his alleged mistress, who tweeted on Wednesday: "I just realized that my car is full of receipts... *cleaning it out.*"
When asked by a follower if there were "any receipts for condoms? hahahahaha…" she said: "Naww just food! Lol I'm a fatass," to which her friend replied, "yea those are in his car, remember! Ha."
Article continues below advertisement
While the former Dancing With The Stars contestant legally changed his name from Johnson to Ochocinco in 2008 to represent his number 85 jersey liked to think he knew how to speak Spanish, it was actually his Latino mistress who wrote multi-lingual messages on his Twitter page for him, according to our insider.
But, it seems that even the stunning beauty couldn't keep Chad away from his first love, football, and on June 10 he was excited for a reunion on the field. "Funny I'm working out at my highschool alma mater for the first time since 1996...Talk about memories with coach Jim Krol," he wrote, while Zuluaga bitterly complained: "Watching people train at beach high wasn't necessarily what I had in mind for a Sunday."