Serial Cheater Chad 'Ochocinco' Johnson Begs For Forgiveness On Twitter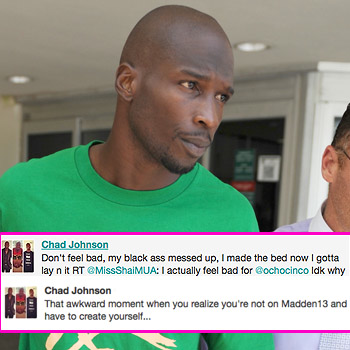 Article continues below advertisement
"That awkward moment when you realize you're not on Madden13 and have to create yourself…" the six time Pro Bowler wrote on Wednesday when he broke his silence, referring to the iconic video game cover that features the most highly anticipated NFL player of the year.
When asked why he deleted his Twitter bio, Chad, 34, replied: "I got to start life over and create a new one."
"Don't feel bad, my black ass messed up, I made the bed now I gotta lay in it," he responded when one loyal follower said they felt sorry for him. "When you're the first to laugh at yourself everybody else's laughs don't bother you."
The self-indulgent tweets come in light of exclusive revelations by RadarOnline.com that the wide receiver has regularly used Twitter to score dates and pick up the desperate women who followed his every move.
"He is constantly scouring Twitter flirting with women and if he sees someone he likes he has them direct message their number to him so they can meet up in person," a source exclusively told RadarOnline.com.
Article continues below advertisement
The disgraced former NFL star has been carrying out a number of illicit affairs with several women for the past year, said the insider, during which time he took them to his favorite bars, brazenly tweeted with them and even let one girlfriend drive the Smart Car that Basketball Wives star Lozada bought him!
RadarOnline.com was the first to report that a Boston woman named Beverly Shiner claims she had a heated affair with the former New England Patriots player from January to May this year after she met him on Twitter while Evelyn was busy planning their 4th of July dream wedding, and it has since become clear that she was far from the only person he cheated with.
As we previously reported, the six time Pro Bowler was also allegedly dating stripper Amber Priddy from Atlanta, Georgia, whom he paid $2,000 each month to cover her rent, but now that Johnson is unemployed and facing numerous legal and financial woes, his girlfriend has been evicted from her home.
While serial cheater Johnson desperately tries to rehab his personal image through Twitter, his estranged wife Evelyn is relaxing on a beach in Barbados, already moving on from her short-lived toxic marriage.