Exclusive
Chad 'Ochocinco' Johnson Tries To Win Evelyn Lozada Back By Getting Her Face Tattooed On His Leg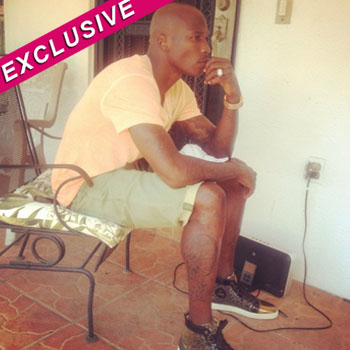 Article continues below advertisement
"It is his way of trying to get her back but instead of being romantic it's just creepy and weird," a source exclusively told RadarOnline.com.
The self-indulgent footballer also changed his personal description on the social networking site as: "Don't follow me... I'm not perfect... I'm not a role model... I'm not into acting yet... Oh and i love all of that from the E to the N," which some say means Evelyn.
As RadarOnline.com previously reported, Lozada filed for divorce from the NFL star following a violent incident on August 11 when he allegedly head-butted her. The six-time Pro Bowl receiver was then arrested by Davie, Florida police and released from jail on $2,500 bond.
After being picked up by the Miami Dolphins earlier this year when the New England Patriots cut him, the wide receiver's contract was terminated by the team within 24 hours of the domestic abuse scandal, and not only is he off the team, publicity-hungry Johnson is also off the air because VH1 canceled the reality show Ev & Ocho about their Caribbean wedding that was set to air in September.
Article continues below advertisement
Johnson made a statement after their volcanic split claiming, "I would like to wish Evelyn well and will never say anything bad about her because I truly love her to death," and Tuesday's tweet appeared to reflect that sentiment.
"I love you if you love me…" he wrote mysteriously.
In her first interview since her life was literally ripped apart, and the man she trusted betrayed her in every way, Evelyn told ABC's Nightline on Friday that she still worries about what will happen to her ex.
"It's the hardest thing in the world to walk away from someone that you really love," Lozada revealed. "But you have to walk away because I have to protect myself.
"I still love him… I feel bad for him because his life is now a mess."
Evelyn's determination to cut ties with her wayward ex comes in light of exclusive revelations by RadarOnline.com that the shamed NFL player had been cheating on her with a string of mistresses that he met on Twitter, including a stripper whose rent he was paying and a woman whom he flaunted at his local hangouts and high school football reunion.