Exclusive
Bobbi Kristina & Boyfriend Show Off New Ink: Planned Before Whitney's Death, Says Tattoo Artist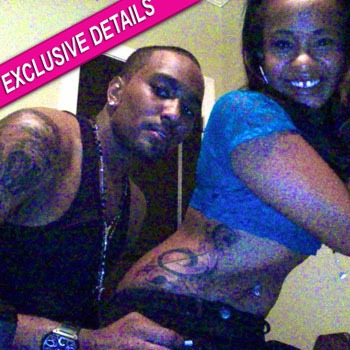 Article continues below advertisement
"They've been coming here since Bobbi was 15. Whitney brought her in to get her belly button pierced," Inksomnia tattoo artist Mike Cummings told RadarOnline.com in an exclusive interview.
"I did the tattoos Bobbi Kristina and Nick got in memory of Whitney. They were really excited to get them."
Bobbi Kristina's latest tattoo is a musical treble clef inked on her ribs and it took Cummings the entire day to do it.
"Bobbi Kristina loves music so she asked me to design something for her and she loves it," Cummings said.
"I worked on them all day yesterday, five or six hours."
"(:baby @nickgordon & I's new TATTS (: hope U all like! they're all very meaningful 2us&hopeU understand tht meaning.(:" Bobbi Kristina tweeted on Tuesday.
Interestingly, Cummings revealed that Nick's latest tattoo was actually something designed for him just two weeks before Whitney's death.
Article continues below advertisement
"Nick's tattoo is a lion and he came in a couple weeks before Whitney died so I could design it," Cummings revealed.
"He didn't make his appointment because they had Whitney's funeral. So this has been a long time coming."
Bobbi Kristina said Nick's lion will protect her, writing on her Twitter, "new TATTSSS (: hopeUall like ! #TheLion tht protectsME(: @nickgordon & the#SongBird that is abt2#SHUTiTDOWNiNTHAGAME(;"
Bobby Brown Hit The Bottle When Whitney Houston Died And His Daughter Ignored Him
Bobby Brown Undergoing Rehab Treatment Once Again