I'm Very Proud Of You! Bobbi Kristina Writes Loving Letter To Mom Whitney Houston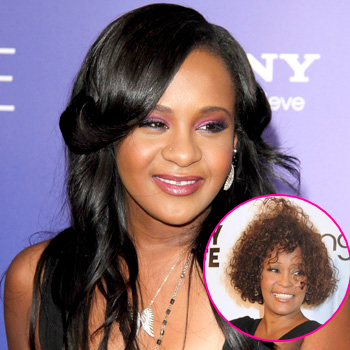 Article continues below advertisement
"Mom, I know that making the movie Sparkle meant everything to you.
"You always told me and Nicholas and the family, "This is for you, this is for us, this is for the family. This is for you Bobbi Kris." You told me that all the time. I'm so proud that you were able to finish making Sparkle before things happened. You did it for us. Mom, you had such a great time making the movie. You glowed throughout...you just glowed.
"My mother being so happy was an absolutely beautiful thing for me to watch. I'm very proud of you."
Bobbi Kristina and Nick Gordon walked the red carpet at the premiere of Sparkle on Thursday night and she proudly showed off her new tribute tattoos, her mother's initials WH.
Sparkle, also starring Jordin Sparks, Cee-Lo Green and Carmen Ejogo, is in theaters now.
RELATED STORIES:
Bobbi Kristina Flaunts Her Controversial Romance With Nick Gordon