Exclusive
Chad 'Ochocinco' Johnson Files Divorce Papers, After Sleepover With Mistress!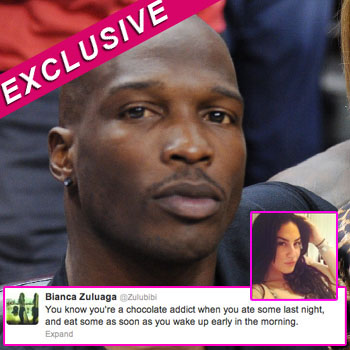 Article continues below advertisement
But it appears that all of his grand romantic gestures were for nothing, and on Thursday Johnson finally threw in the matrimonial towel and officially filed his divorce papers.
So, what changed his mind? Perhaps a passionate sleepover with his mistress!
According to an eyewitness, a red Volkswagen complete with a Miami sticker on it was parked overnight outside the home Johnson shared with Lozada, who has still to remove her clothes and belongings from the property.
The car belongs to Bianca Zuluaga, the woman RadarOnline.com exclusively reported to be Johnson's mistress, and is registered in Zuluaga's mother's name.
According to Johnson's own Twitter page, he was due in court Thursday morning, but as it turns out, decided not to show up, choosing instead to spend the morning with Zuluaga first at his home, then headed out for some breakfast at Johnson's beloved IHOP.
Zuluaga, who refers to Johnson as "Chocolate" confirmed this on her own twitter page, first tweeting "You know you're a chocolate addict when you ate some last night, and eat some as soon as you wake up in the morning."
Then later, tweeting "iHop with my lover… yummm fattening."
RELATED STORIES:
Evelyn Lozada Was Shocked Chad 'Ochocinco' Johnson Cheated So Quickly!
Chad Johnson Desperate To Win Back Evelyn Lozada: The Shirt Says It All!
Evelyn Lozada Says She's 'Scared Of Not Being Loved' In Tearful Post Chad 'Ochocinco' Johnson Interview
Chad 'Ochocinco' Johnson Tries To Win Evelyn Lozada Back By Getting Her Face Tattooed On His Leg