Chad Johnson Desperate To Win Back Evelyn Lozada: The Shirt Says It All!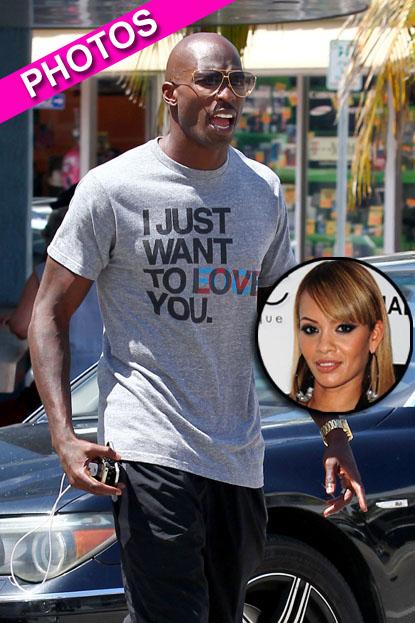 Talk about wearing your heart on your sleeve!
Chad Johnson pined to win back the love of his estranged wife Evelyn Lozada in Miami Wednesday, wearing a shirt that read, "I Just Want To Love You" as he left a local café, and we've got the photos for you right here on RadarOnline.com.
In addition, the six-time Pro Bowl wide receiver reportedly got an image of the Basketball Wives stunner's face on his leg, presumably in hopes of getting her back.
Article continues below advertisement
PHOTO: Chad Johnson Wears His Heart On His Chest
As we previously reported, Johnson's marriage to Lozada crumbled just 41 days after their wedding with his August 11 arrest on domestic violence charges against her.
Evelyn said in a recent interview she was startled to find a receipt for condoms "three weeks after we were married.
"I'm not naïve...I felt like he was not even trying," the 37-year-old stunner told People, adding they exchanged words and things got violent when he head-butted her.
Evelyn said after getting hit, she had blood in her eyes and "was tasting it.
"I remember realizing, 'Oh my God, the news is going to get out.' I was so humiliated," Evelyn said.
She said she decided to get a divorce following the attack. Chad was cut from the Miami Dolphins shortly thereafter, as the rebuilding squad wanted no part of the bad publicity sure to come in the fallout of the dramatic separation.