Exclusive
Sugar Daddy Joe Simpson Spoiled Boy Toy Bryce Chandler Hill With Lavish Gifts!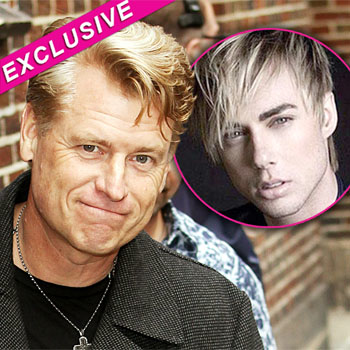 By Jon Boon - RadarOnline.com Reporter
Joe Simpson was Bryce Chandler Hill's sugar daddy, RadarOnline.com is exclusively reporting.
After uncovering her soon-to-be ex-husband's affair with the 21-year-old aspiring model, Tina Simpson, 52, spoke with their shared business manager, David Levin to see what transactions Joe had made over a 12-month period.
After she discovered that Joe, 54, had been freely spending thousands of dollars on designer clothing, high-end hotels and concerts, Tina confronted Joe and he confessed that he had been lavishing Bryce with gifts secretly for more than a year. Worse still, the money spent was from Joe and Tina's joint account!
Article continues below advertisement
"Soon after Joe confessed that he was having an affair with Bryce, Tina wanted to retrace his steps," a source close to the family told RadarOnline.com.
"She asked David, who looks after their business ventures and their joint account, to look at what transactions Joe had made.
"Over a 12-month period, Tina saw that Joe was splashing thousands of dollars in designer stores in New York and Los Angeles, staying in luxury hotels and buying tickets for concerts. They were secret purchases he had made without telling Tina!
"What was worse, the money that Joe had freely spent on Bryce was from a mutual account he shared with Tina. She was livid, so asked him what he spent it on and he admitted he was gifting Bryce.
"But Joe wasn't finished," the source continued. "He later withdrew $1.5 million from that account after confessing his sins and claimed it was for investments.
"Tina's not sure what to believe anymore."
As RadarOnline.com previously reported, Tina dashed to New York to confront Joe about his alleged trysts after finding modeling shots of Bryce lying around the L.A. home she shared with Joe.
Article continues below advertisement
That culminated in the pair thrashing out their differences in a hotel lobby.
Before that, Bryce was bragging to friends about having a gay relationship with Joe and they say he's using him for fame and laughing behind his back.
"Bryce is desperate to become famous, he's done lots of modeling shoots and wants to become an actor," a source previously told RadarOnline.com.
"When he met Joe, he knew what a good job he had done in managing Jessica and Ashlee's careers and wanted a piece of the pie himself.