Exclusive
21-Year-Old Aspiring Model Boasting About Having Torrid Gay Affair With Jessica Simpson's Dad Joe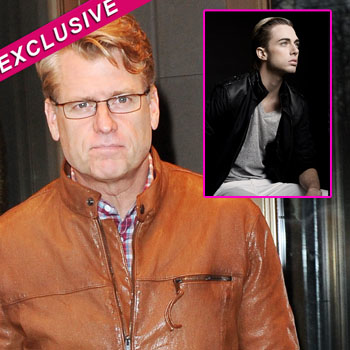 By Jon Boon - RadarOnline.com Reporter
A young, aspiring male model has been boasting that he has been having an affair with Jessica Simpson's father, Joe, for the past year, RadarOnline.com is exclusively reporting.
Fresh-faced Bryce Chandler Hill, 21, has been bragging about dating 54-year-old Joe on/off for around a year and has recounted torrid details of their alleged trysts to various friends around West Hollywood.
Article continues below advertisement
"Bryce is close to TJ Espinoza, who in turn is good friends with both Jessica and Ashlee and worked for Britney Spears as a back-up dancer.
"TJ introduced Bryce to the Simpsons – and that's how he met Joe.
"Bryce claims he's been dating Joe for roughly a year and absolutely loves to boast about it because he loves being the center of attention. He's also been quick to tell anyone that will listen that he's using Joe to climb the showbiz ladder.
Article continues below advertisement
"Bryce is desperate to become famous, he's done lots of modeling shoots and wants to become an actor. When he met Joe, he knew what a good job he had done in managing Jessica and Ashlee's careers and wanted a piece of the pie himself.
"But the sad thing is, he mocks and laughs at Joe behind his back. He doesn't care for him in the same way Joe does about him.
"Bryce has been boasting about this for months, but no one believed him at first," the source divulged.
A source close to the Simpson family previously told RadarOnline.com, Jessica was completely blindsided by her father's reported gay bombshell.
The pop star-turned-fashion-designer is struggling to come to terms with the revelation that dad Joe, a former youth minister and Baptist pastor, has come out of the closet, the source said.
But the insider insists that the 32-year-old Dukes of Hazzard star, who has a number of close gay friends in her life, has vowed to stand by her father despite his sexual preference.
Article continues below advertisement
PHOTOS Jessica Simpson And Eric Johnson Get Caught In The Rain
"Jessica had absolutely no clue that her father was gay, not even the slightest inkling," the source told RadarOnline.com. "She thinks she has very good gaydar, especially since a lot of her friends are gay, but she did not see this coming at all.
"It was a complete shock to the system, she feels terribly for her mom who was left reeling by the announcement and her sister Ashlee has also taken the news quite badly.
"Jessica's been trying to process the information slowly, but she's having difficulty dealing with it. She can't understand why Joe stayed married to Tina for so long, and can't help wondering how much of their life was a lie," the source continues.
"Despite that, she's going to stand by him and support his decision. After all, he's still her father and Joe's always been there for Jessica whenever she's needed him...And not just as a father, but as her manager too."