Jessica Simpson & Nicole Richie In Search Of 'Fashion Star'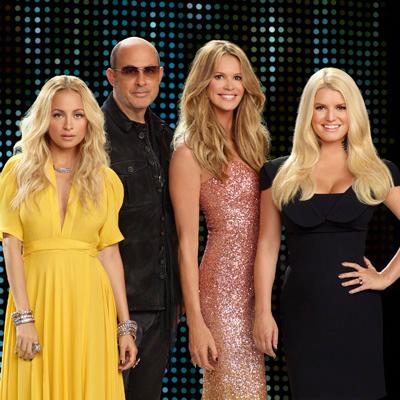 Any reality competition could find 14 hungry designers and throw weekly fashion shows with live music, dancers and a studio audience. The new series Fashion Star, however, conquers new ground with the help of three industry icons (Nicole Richie, John Varvatos, Jessica Simpson) and one huge twist: Each week's best designs will be available online immediately after the show — and in stores the very next day!
Article continues below advertisement
"The show is as much about shopping as it is about fashion," explains host and model Elle Macpherson. "People can buy what they're seeing immediately."
As they fight to launch their own collection — a grand prize valued at $6 million — it's enough to make the designers, from 55-year-old breast cancer survivor Barbara to the show's biggest diva, 4'11" Oscar, go all out.
It leads up to the highlight of each episode, a runway show where buyers for H&M, Macy's and Saks Fifth Avenue bid cash for the right to carry their favorite designs. The winners are on shelves the next morning; anyone who doesn't get a bid goes up for elimination, and the grand-prize winner will have his or her designs in all three stores.
Though the mentors will have the power to pick one designer to save from the chopping block each week, their real impact comes from guiding the contestants. "We got to work with each one," says Nicole.
"We're not competing against each other. We worked together to make each designer the best version of themselves."
As for the finished products, Fashion Star is aimed at women and men of every size and tax bracket. "It's important to understand who your consumer is and translate that into your garment," explains Jessica, whose Jessica Simpson Collection has become a billion-dollar fashion brand. "Everything goes to waste once you get detached from that and start thinking you're a hotshot."
Premieres Tuesday, March 13, at 9:30PM on NBC