Exclusive
Joe Simpson Cancels Golf Date With 'Hunky Young Male' Amid Ever Growing Gay Scandal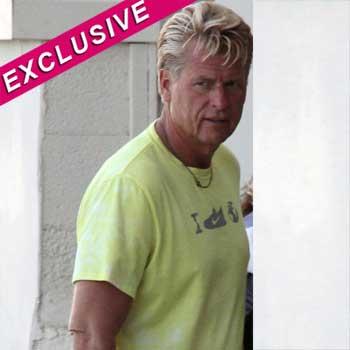 By Jen Heger - RadarOnline.com Assistant Managing Editor
Joe Simpson canceled his usual weekly golf date with his much younger, hunky male buddy on Saturday amid his ever growing gay scandal, opting instead to tee off with a middle aged, portly friend instead, RadarOnline.com is exclusively reporting.
"Joe has always played golf at his swanky club MountainGate on Saturdays at 12:30 p.m. with a much younger, 20-something male, who isn't a member," a source close to the situation tells RadarOnline.com exclusively. "Joe's golfing buddy is extremely good looking and Joe is very, very secretive about his identity. Joe never writes the guest's name on the sign-in sheet and never allows any other members to join in while they play golf, which is very, very odd. Interestingly, this past Saturday Joe allowed two other guys to join him and his older friend on the course, which usually is a total no-no with his young buddy.
Article continues below advertisement
PHOTOS Jessica Simpson And Eric Johnson Get Caught In The Rain
"No one at the country club is impressed with Joe Simpson, he acts like an arrogant jerk. Everyone noticed that after reports surfaced that Joe was gay, he didn't play with his regular young, good looking friend this past Saturday, but played with someone much, much older."
As RadarOnline.com previously reported, Fresh-faced Bryce Chandler Hill, 21, has been bragging about dating 54-year-old Joe on/off for around a year and has recounted torrid details of their alleged trysts to various friends around West Hollywood.
"Joe Simpson being outed by the National Enquirer was no surprise to the gay community in Hollywood, Bryce has been bragging about hooking up with Joe for a while now," a source close to Hill revealed.
"Bryce is close to TJ Espinoza, who in turn is good friends with both Jessica and Ashlee and worked for Britney Spears as a back-up dancer.
"TJ introduced Bryce to the Simpsons, and that's how he met Joe.
Article continues below advertisement
"Bryce claims he's been dating Joe for roughly a year and absolutely loves to boast about it because he loves being the center of attention. He's also been quick to tell anyone that will listen that he's using Joe to climb the showbiz ladder.
Multiple sources close to the situation tell RadarOnline.com that Simpson's mysterious hunky young golfing pal isn't Hill though. "Joe's friend looks like a rugged, wanna-be skinny actor. He looks very out of place at the country club and you feel bad for the dude because he looks like he is just totally uncomfortable being out on the greens," the insider says.