Jessica Simpson's Post-Baby Weight Battle: 'I'm Not A Supermodel'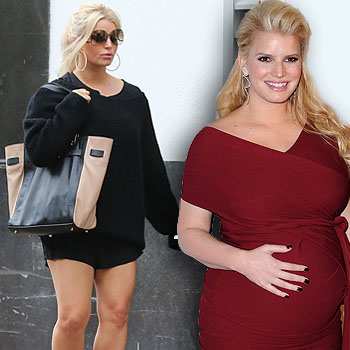 Jessica Simpson's quest for a slim post-baby body has had some setbacks, and the Fashion Star beauty has admitted she's not a supermodel and will not drop the weight as quickly as other notable A-list Hollywood starlets, but she's sure going to try.
The Texas-born beauty, who has shed most of the 70 pounds she put on during her pregnancy, told Us magazine, "I feel positive about how I've done so far and really good about the goals I have set.
Article continues below advertisement
"I really have to separate myself from the world's expectations and really just be healthy with myself.
"I'm not a supermodel. My body is not bouncing back like a supermodel. I'm just your everyday woman."
Before she gave birth on May 1, Simpson said her goal was to lose weight as quickly as Jessica Alba did, who admitted to Lucky magazine:
"I have 1,200-calorie meals delivered. But I also work out, so basically I'm starving. It sucks."
Simpson, 32, previously admitted she "didn't think" about gaining the weight during her actual pregnancy.
"I just always thought that my doctors were telling me that it was just a lot of water and whenever my water broke, my whole stomach would go down," she told Katie Couric last month. "But that didn't happen."
She told the magazine she's had much support meeting weekly with a tight-knit group that includes her mother and friends, as they focus on weight loss, and the journey getting there.
Article continues below advertisement
"We talk about what we've struggled with," Jessica said, adding "it's really encouraging to know you're all going through the same thing. Our meetings are also a great time to celebrate victories."
PHOTOS Jessica Simpson And Eric Johnson Get Caught In The Rain
Jessica's trainer Harley Pasternak said he's never seen as consistent a weight loss effort in 20 years on the job.
"Jessica's right where she needs to be," he said.