Exclusive
Watch Out Jessica! Eric Johnson Accused Of Cheating On Simpson With His Ex-Wife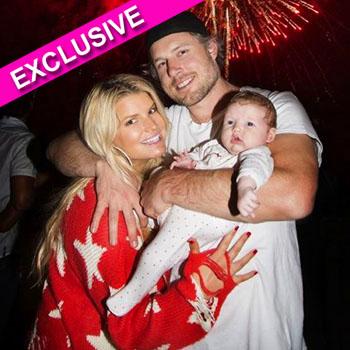 New mom Jessica Simpson will no doubt be praying for a happy ending when she finally heads to the altar with fiance Eric Johnson, as the new issue of Star magazine lifts the lid on his alleged past indiscretions with none other than his ex-wife!
The Dukes Of Hazard star may have thought that her future husband's marriage to Keri Johnson was well and truly over by the time she started dating him, but sources exclusively tell Star that the former NFL player was actually sleeping with both of them at the same time.
Article continues below advertisement
The news shouldn't come as any surprise to Simpson, who knew that Johnson was still married to the freelance stylist when the pair first met at a mutual friend's house in Los Angeles, where he had even brought Keri along as his date!
The couple was already having problems, but it wasn't until later when they officially decided to take a break, "hoping it would ultimately make their marriage stronger," according to one of Keri's confidantes.
Meanwhile, Eric jumped headfirst into his relationship with the sexy singer, which sparked outrage with his ex-wife's friends.
"He's a two-timing cheat!" alleges one pal. "He was still having sex with Keri after he started seeing Jessica. She needs to think twice before marrying him. He's already cheated on her once — he'll most likely do it again."
Meanwhile, it doesn't look like Eric and Jessica, who recently , daughter Maxwell, will be tying the knot anytime soon, and the bride-to-be even told Katie Couric that they haven't set a date yet.