Jessica Simpson Confesses, 'I Didn't Realize The Weight Didn't All Come Off With The Baby!'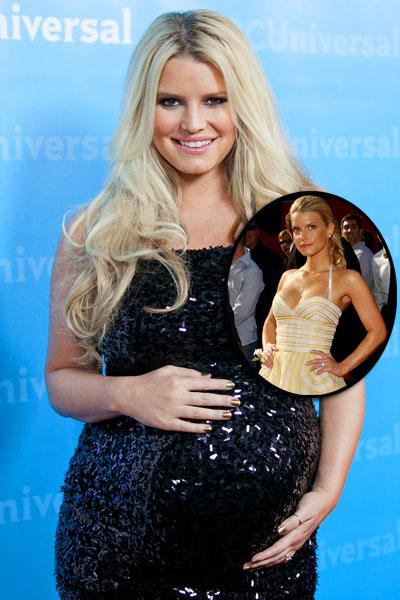 Article continues below advertisement
Instead of watching what she ate while she was expecting, the singer, actress and fashion designer allowed herself to give in to her cravings without feeling guilty. "I let myself indulge in everything I wanted because it was the first time I was ever pregnant and I wanted to enjoy it," she revealed. "I wanted to be happy and eat what I wanted."
"Constantly hungry" with a "big appetite," 5'4" Jessica treated herself to mac and cheese amongst other treats as a mom-to-be, which contributed to her weight reaching more than 170 pounds by the time she was full term.
Unlike Heidi Klum or Gisele Bunchen who seem to squeeze into their bikinis within weeks of welcoming a newborn, 32-year-old Simpson explains that she is much more human!
"I'm not a supermodel. My body is not bouncing back like a supermodel. I'm just your everyday woman who is trying to feel good and be healthy for her daughter, her fiance and herself," she said.
The down-to-earth Texan has been refreshingly open with her battle to lose the pregnancy pounds, and says that she is used to the attention of both fans and the media on her fluctuating scales. "My weight has always been something that people like to comment on. I've gotten used to it. It'll start to get boring at some point, I hope," she revealed.
Article continues below advertisement
Having signed on as a spokesperson for Weight Watchers, Jessica will begin appearing in the diet program's TV ads next week and says she has "lost weight every single week" since Maxwell was born by sticking to the easy-to-follow PointsPlus plan, which assigns points to foods based on the amount of protein, fiber, carbohydrates and fat in them.
While she has ditched the mac and cheese, Jessica has not sacrificed her sweet tooth. "I'm a woman who wants her chocolate. I allot myself a fun-size (bag) of M&Ms. I eat one of those, and my craving is satisfied. I don't need the whole bag of M&Ms," she revealed.
The Dukes Of Hazard star – who got famously ripped for that role – has also been working out with her former NFL player fiance, Eric Johnson. "My boobs are way too big to run at this point. I'm just walking," she explained.
PHOTOS Jessica Simpson And Eric Johnson Get Caught In The Rain
"We take Maxwell out a lot. … (Johnson) was really healthy when I met him, eating a vegetarian diet and very health conscious from being an athlete," said Jess, who also does toning and weight training with fitness expert Harley Pasternak.
Article continues below advertisement
Rather than being bashed for being honest about her weight struggles, the bubbly Fashion Star mentor is hoping to empower other women in the same boat.
"Nobody wants to talk about their weight. For me, I have had to come to a place where I am comfortable with myself. I'm a mom now, and get to be a role model for this beautiful little girl," she said.
Jessica will unveil her weight loss on the premiere episode of of Katie Couric's new nationally syndicated talk show, Katie, on September 10.