Exclusive
Chad 'Ochocinco' Johnson & Evelyn Lozada Court Reunion, She Drops No Contact Order But No Reconciliation Planned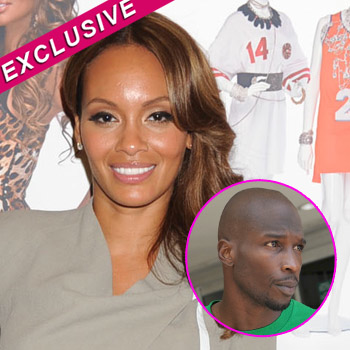 Article continues below advertisement
Both Evelyn and Chad have known since October 29 that they were going to come face-to-face again and now they can legally have as much contact as they choose, explained her lawyer, Adam Swickle, however, Lozada recently told RadarOnline.com that although she does want to sit down and talk to Chad one day, it is still too soon.
"I hear things about him, he recently did this interview on ESPN, I saw clips of it but it wasn't easy to watch because he is still wearing his wedding ring and still wants to be married," she told RadarOnline.com in an exclusive interview.
"At some point a conversation needs to take place, I have questions about everything and that will happen when it's supposed to happen," Evelyn confided. "I would definitely like to sit down and talk to him down the road – I would just really like to get up in his head and ask, 'Why?'"
For the 37-year-old reality star and new PETA spokesmodel, the meeting in court was hardly a big stand-off and more like a blip in her busy schedule.
Article continues below advertisement
"She went to court, packed her bags and headed back to Los Angeles that afternoon," a source close to Evelyn exclusively told RadarOnline.com. "It was the first time they have been in the same room together but she has known for months that it was coming up."
As RadarOnline.com previously reported, the reality TV couple started divorce proceedings after just 41 days of marriage following a violent altercation between the newlyweds on August 11.
Straight after the angry explosion, strong-willed and resilient Evelyn "moved out, took my clothes and never looked back. I pretty much moved on with my life," she told RadarOnline.com.
As for Chad, the Twitter fanatic appeared to be in a reflective mood after his visit to the courthouse on Monday by tweeting a string of obscure comments such as: "Identify your enemies... oh they are always the closest to you…" and "I tried to build a mansion on sand.. no wonder it collapsed…"