Exclusive
Look What You're Missing Chad Johnson! Reformed Fur Wearer Evelyn Lozada Strips Naked For PETA!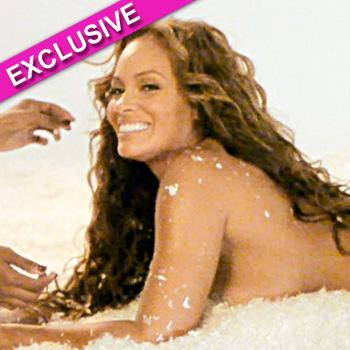 Article continues below advertisement
"You can verbalize what happens to these animals a thousand times, but when you see it, it definitely clicks in—and it did for me," the 37-year-old reality star explained in an interview with PETA.
"I am an animal lover. I was definitely one of those people that wore fur years ago. I was looking online and seeing how these animals are tortured and skinned, and you don't really realize the hurt and the pain that they go through just for fashion, and I want to be a voice for them," explained Evelyn as she was photographed lounging nude in a snowy winter wonderland.
"I think that parents should show what is done to these animals. For people who do wear fur, I want them to do the research for themselves. Hopefully if I can change someone's mind by not wearing fur then I have saved an animal," she pledged in the exclusive sneak preview.
Lozada joins a growing list of celebrities, including Olivia Munn, Wendy Williams, Eva Mendes, Christy Turlington, and Taraji P. Henson, who have renounced fur and then volunteered to appear in PETA's iconic naked campaign.
Article continues below advertisement