Exclusive
PETA Slams Lady Gaga Again: Fox Head Fur Scarf 'Proves She Has No Heart'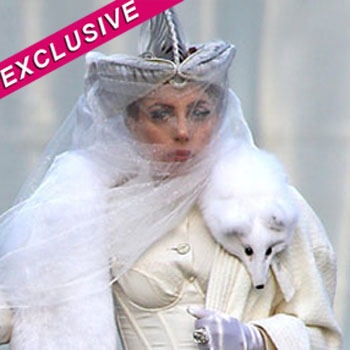 By Debbie Emery - Radar Reporter
Fashion should not have a face, but that didn't seem to bother Lady Gaga when she stepped out in a fox fur scarf in Cologne, Germany on Wednesday that was still attached to its original owner.
With the fox's cute face and fluffy tail clearly on display, the cruel fashion accessory has caused outrage from animal rights group PETA (People For The Ethical Treatment Of Animals), RadarOnline.com can exclusively reveal.
Article continues below advertisement
"The outfit really speaks for itself. PETA is considering passing the hat so that someone can buy her a heart," PETA spokesperson Wendy Wegner told RadarOnline.com, who said the fur appears to be from an Arctic White Fox, which is often electrocuted for its fur.
The group has targeted the Bad Romance singer in the past for her fur fetish and even sent her a letter begging her to be more animal-friendly in her fashion choices.
"Many of your gay fans, I among them, have long admired what you told Ellen: 'I hate fur, and I don't wear fur,'" wrote Dan Mathews, Senior Vice President of PETA in a message sent to Gaga obtained by RadarOnline.com after she wore a thick fuchsia Giorgio Armani fur jacket and hat combo from their Fall 2012 collection out on a sweltering New York day last month.
"I included a link because these recent photos of you in fox and rabbit and with a wolf carcass make it appear that you have amnesia. What happened? Are your stylists telling you that it's fake, or are you a turncoat?" he asked.
Article continues below advertisement