Exclusive
Chad Who? Newly Divorced Evelyn Lozada Is Single And Happy: 'Looking Forward To The Future'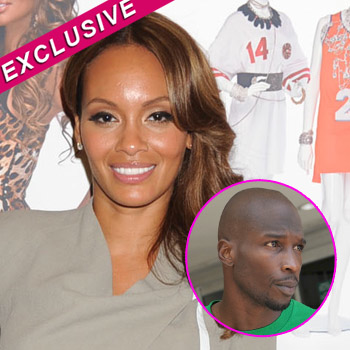 Article continues below advertisement
As previously reported, the Florida-based divorce was a "very simple process," according to Johnson's attorney Adam Swickle. "It was a three to five minute hearing and that's the end of it," he told RadarOnline.com.
Lozada filed for divorce from the NFL star following a violent incident on August 11 when he allegedly head-butted her. The six-time Pro Bowl receiver was then arrested by Davie, Florida police and released from jail on $2,500 bond.
After keeping quiet on Twitter since Johnson allegedly attacked her following her shocking discovery of a receipt for condoms in his car on August 11, Evelyn had an optimistic message to her followers when her split from the former Miami Dolphins player was made official.
"Oh what a GREAT morning!!!" she wrote, before happily chatting with her online friends.
Evelyn's positive attitude is a stark contrast to the shamed and unemployed NFL star, who obscurely wrote, "Gotta break the cycle…" when he became a bachelor again.
Article continues below advertisement
Johnson has repeatedly been lamenting the end of his marriage in recent days. When asked if he was "going fishing," meaning picking up women, he replied: "Nah i caught the fish i want... my line broke though... gotta cast it back in the same area…" and compared getting Evelyn's face tattooed on his leg as, "You ever threw a boomerang? Same concept...
"She's on my leg so i can have that sit down anytime…"
The huge tattoo that Chad had permanently inked on his calf earlier this month "is his way of trying to get her back but instead of being romantic it's just creepy and weird," a source exclusively told RadarOnline.com. Following repeated evidence of his serial cheating habits, it will take more than a tattoo to win his ex-wife back!
RadarOnline.com has exclusively learned about numerous mistresses that the footballer kept in both Boston and Miami, and last week he even had one of them sleep over in the house that he and Evelyn once shared.
Article continues below advertisement
According to an eyewitness, a red Volkswagen complete with a Miami sticker on it belonging to Bianca Zuluaga was parked overnight outside the home Johnson shared with Lozada, who has still to remove her clothes and belongings from the property. After doing the walk of shame in the same clothes she arrived in, the scandalous couple went for breakfast at Johnson's beloved IHOP, while he should have been in court for a domestic assault hearing.