Exclusive
Evelyn Lozada Puts Divorce Dark Times Behind Her, But Wants To Ask Cheating Chad 'Ochocinco' Johnson 'Why?'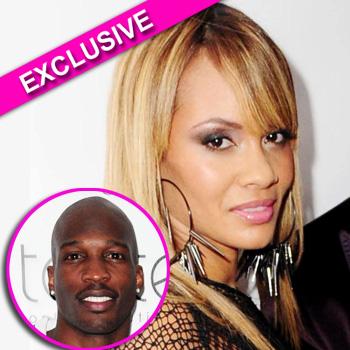 By Debbie Emery - RadarOnline.com Reporter
Following a tumultuous summer that saw her walk down the aisle and then into the divorce court just 41 days later, Evelyn Lozada is opening up to RadarOnline.com in an exclusive interview about how despite putting the dark time behind her, she still has questions to ask her cheating ex-husband, Chad "Ochocinco" Johnson.
"I haven't spoken to Chad, we can't – we have a 'no contact' clause, but I hear things. He recently did an interview on ESPN and I saw clips of it but it wasn't easy to watch because he is still wearing his wedding ring, and says he still wants to be married," the 37-year-old Basketball Wives star tells RadarOnline.com.
Article continues below advertisement
"He hasn't tried to speak to me directly and I don't think he is going to risk his freedom, I also don't think it would be good for us," Evelyn tells RadarOnline.com, while in Los Angeles to promote the launch of her steamy naked collaboration with animal rights titans PETA for their 'I'd Rather Go Naked Than Wear Fur' ad campaign.
The reality TV couple's divorce was finalized on September 19 and since then Evelyn has been relishing in the single life and looking happier (and hotter!) than ever, while Chad struggles to pick up the pieces of both his failing football career and fall out over his serial cheating.
Article continues below advertisement
"At some point a conversation needs to take place, I have questions about everything and that will happen when it's supposed to happen," Evelyn confides. "I would definitely like to sit down and talk to him down the road – I would just really like to get up in his head and ask, 'Why?'
"Obviously he wasn't thinking, but as a woman, there are certain things I needed closure with like why he cheated? It is hard for me to wrap my head around why someone would put everything at risk," she says, referring to revelations that the former Miami Dolphins player scoured Twitter for sleazy mistresses, both before and after their wedding.
"But I am not a man either so I don't get that at all. Obviously that is wrong, I feel like we were both a lesson to each other, I have learned so many things… things that I will never tolerate again.
"I don't care who you are, I don't care what you do, I never needed Chad for anything. People think I'm a gold digger but I take care of myself, I make my own money and I pay my own bills. I didn't need Chad for anything other than companionship," insists the fashion and cosmetics business guru.
Article continues below advertisement