Heidi Klum Breaks Silence On Seal Split: 'I'm In The Eye Of A Tornado'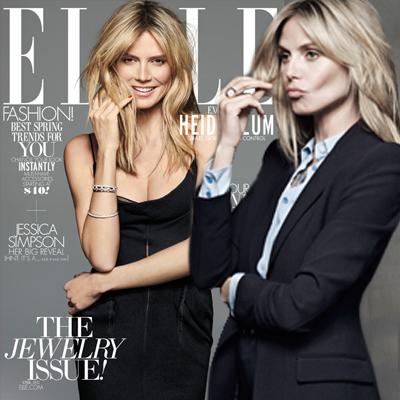 Heidi Klum, less than two months removed from her separation with Seal after six years of marriage, has broken her silence to Elle magazine about how her life has been in the wake of the split, the media's and public's interest in her personal affairs, and how she feels about his numerous interviews over the break-up shortly after it was announced.
"I feel like I'm in the eye of the tornado. It's emotions inside of your body that are a tornado. And then the outside world doing all this craziness -- with you wanting it or not wanting it -- is another tornado," Klum told Elle. "But as hard as it is, so is life. And sometimes I think a curveball just comes at you.
Article continues below advertisement
"Instead of something straight that you catch, it hits you in the head from the side that you didn't expect."
The German supermodel withdrew a tad when explaining how she deals with the constant scrutiny of a break-up while in the public eye.
"To the outside world, you don't really share all the things that happen. You kind of share just the most amazing sides," the Project Runway host said. "But I don't really want to get into any of that stuff. With my life, my family, my business -- I want to go forward."
"I feel like already there are so many things being said about us -- about him, about me. I'm not going to comment. Otherwise it makes you angry. You can't always call and say, 'This is not true, but this part is true.'"
As for Seal's multiple outings in which he discussed the split, she said "he's a grown man" and it's not her place to "tell him what to do and what not to do.
"It's hard: People don't need to know who did what, I don't want to talk positively or negatively about the ups and downs that we had," explained Klum, 38. "Every couple goes through things. Unfortunately, we're in the public, so the highs are out there."
Article continues below advertisement