The History Of Hotness! The 10 Sexiest Swimsuit Moments Of All Times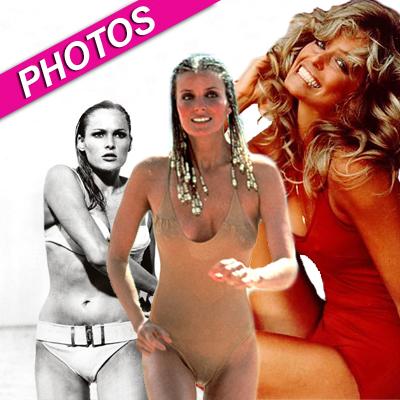 By Leah Ornstein - Radar Style & Beauty Editor
Jennifer Aniston, Heidi Klum and Kim Kardashian are all bona fide bikini babes of our time, but who were the beauties that came before them and set the thermostat to smokin' hot?
From iconic pin up girls and models to the most celebrated Bond girls and Charlie's Angels, RadarOnline.com has photos of the 10 sexiest swimsuit sirens of all times in a special feature.
Article continues below advertisement
She was the world's first and most famous Bond girl, and she rocked a bikini like no other! Swiss siren Ursula Andrews scorched up the screen of 1962's Dr. No in a white hot bikini that screamed sexiness. The movie, as well as her bikini body, will never be forgotten.
Bo Derek and Farrah Fawcett both proved that one-piece swimsuits can be just as scandalous and sexy as a barely there bikini! Derek steamed up the screen looking nearly naked in a nude swimsuit with cornrow braids hitting her tan skin in the movie 10, while the late Fawcett was the object of millions of boys' affection when she posed for a famous photo wearing a sheer, red number.
Michelle Williams and Lindsay Lohan have both channeled the Old Hollywood glamour of big screen goddess  Marilyn Monroe, but neither of the stars can rock a bikini quite like good ol' Norma Jean. Monroe stripped down into a polka-dot bikini in 1951, flaunting her famous curves in breathtaking fashion.
Foxy French actress Brigitte Bardot was one of the earliest supporters of the bikini, even starring in a movie called The Girl in the Bikini, while Raquel Welch, one of the most celebrated beauties of all times, posed in a cave girl bikini in the 1966 movie One Million Years B.C.
What other iconic swimsuit sirens have gone down in history for their hotness? Find out by clicking here.