Exclusive
WORLD EXCLUSIVE: Mel Gibson's Racist Rant Caught On Tape - Tells Oksana She Would Get 'Raped By N***ers'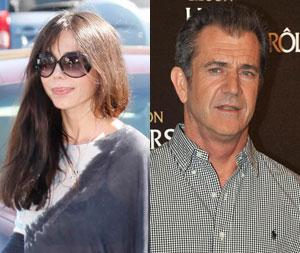 In one of the most explosive, racist and vile outbursts by a celebrity ever caught on tape, Mel Gibson told the mother of his love child that the way she was dressed would get her "raped by a pack of n***ers," RadarOnline.com has learned exclusively.
It's a shocking and blockbuster development in the couple's bitter legal battle, and Mel's disgusting words are on audio tape. His racist, misogynist statement is one of the secrets lurking in his war with his former girlfriend Oksana Grigorieva.
Article continues below advertisement
RadarOnline.com has heard the tape, which also includes Mel telling Oksana he will burn down her home.
Drunken Mel previously shocked the world with his anti-Semetic comments when busted for DUI. Now, the new racist outburst has taken the Oscar winner to an even deeper low.
His outburst came during a series of explosive arguments with Oksana, mother of his infant daughter Lucia. They have been battling in court, with documents under seal, for the past several weeks.
VIDEO: The Complete History Of Kim Kardashian's Sex Tapes!
And there is more than one disgusting outburst from Mel. RadarOnline.com has listened to the hate-fuelled rants the Braveheart star unleashed during fights with Oksana as their relationship unraveled.
"You're an embarrassment to me," Mel tells her at one point.
"You look like a f***ing pig in heat, and if you get raped by a pack of n***ers, it will be your fault."
Article continues below advertisement
Mel's attorney told RadarOnline.com that he is no longer commenting on the case and said Mel's publicist is the only Mel official who will speak for him.
Mel's profane outbursts are littered with references to Oksana being a "whore" and "c**t".
PHOTOS: Oksana Shows Off Her Post Baby Body
In another tirade, Mel tells Oksana: "How dare you act like such a bitch when I have been so f**king nice."
He warns, "I am going to come and burn the f**king house down... but you will blow me first."
INFOGRAPHIC! The Complete Kardashian Family Tree!
The emergence of the explicit tapes is a stunning development in the couple's bitter separation and court battle over custody of their young daughter.
RadarOnline.com first broke the story about how Mel, 54, and Oksana, 40, filed dueling restraining orders against each other under seal.
Published reports say Oksana is alleging Gibson punched her in the face twice during a fit of rage, giving her a concussion and knocking out two of her front teeth.
MORE ON:
Celebrity Justice
Article continues below advertisement
Gibson does not deny that they had a confrontation but has simply described it, through his lawyer, as a loud argument.
In a further outburst, Mel is heard telling her, "You're a bitch" to which Oksana insists, "I didn't do anything."
"Did so," Mel responds.
The tapes do not make it clear what the couple was arguing about.
But Mel tells Oksana, "Look what you did to me... look what you are... look what every part of you is... f**king fake... f**king fake.
Article continues below advertisement
The source says she hopes the recordings will be admissible in any potential trial.
"Oksana's motivation for recording this was to show Mel how mean he was, and because she feared for her life," said the insider.
PHOTOS: Oksana Grigorieva Goes to the Supermarket
"She wanted to get evidence that he was dangerous and violent."
The source claims that Mel has heard two of the tapes.
Said the source, "Mel is doing everything he can to suppress this... they are the rantings of a mad man."
PHOTOS: Mel Gibson and Oksana Hit Film Premiere
When cops arrested Mel in 2006 on suspicion of drunk driving, Mel barraged them with obscenities, tried to escape custody and spewed bizarre anti-Semitic remarks.
"F**king Jews... The Jews are responsible for all the wars in the world," Mel said.
He also allegedly told a female officer, "What do you think you're looking at, sugar t*ts?"
The news sparked worldwide outrage and the Mad Max star later apologized.
Gibson has seven children with former wife Robyn, whom he split with in 2009 after 27 years of marriage.