ON YOUR RADAR: Biggest Scandals Of The Year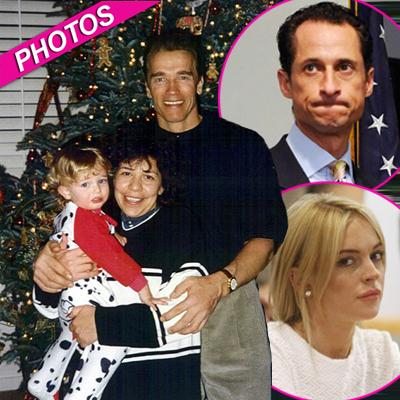 By Debbie Emery - RadarOnline.com Reporter
From wild-partying Hollywood stars to sleazy politicians, the celebrity world is never short of scandalous activity and 2011 didn't disappoint. RadarOnline.com has gathered the most outrageous stories of the year that shocked, amazed, and sometimes downright confused us.
Politics and sex are the perfect ingredients for a saucy scandal, especially when the politician is the former governor of California and a huge Hollywood star. Arnold Schwarzenegger became one of the biggest stories of the year in every way when a joint investigation by RadarOnline.com and Star magazine revealed in May that he had fathered a love child, who is now 14, with his housekeeper, Mildred Baena.
Article continues below advertisement
PHOTOS: Check Out The Biggest Scandals Of The Year
Aptly-named New York Representative Anthony Weiner was disgraced earlier this year when he posted a photograph showing a close-up shot of a man's bulging crotch, on his Twitter account addressed to 21-year-old college student Gennette Cordova. After the scandal broke, numerous women across the country came forward claiming the married congressman had "sexted" them over Facebook or phone.
He's only 17, but Justin Bieber proved you're never too young to be involved in a sex scandal after a fan claimed he was the father of a love child that she said was conceived backstage at one of his concerts, in a "30 second" hook up. Mariah Yeater filed a paternity suit in October against the Baby singer, dropped it less than a month later but is still pursuing her claim out of court — Bieber adamantly denies the claim, and took a DNA test to prove he isn't the baby daddy.
Article continues below advertisement
Tobey Maguire put on his best poker face earlier in June when Star magazine exclusively reported that he was at the heart of an illicit poker ring after he was named in a lawsuit filed by victims of imprisoned investment banker Brad Ruderman, who lost millions of dollars in the high stakes games. The Spiderman star won over $300,000 from the Beverly Hills hedge fund manager who embezzled investor funds and orchestrated a Ponzi scheme in a desperate bid to pay off his monster gambling debts.
After he unceremoniously ditched his Real Housewives of Beverly Hills star wife Camille in the summer of 2010 for a younger woman, Kelsey Grammer faced one of the most expensive and scandalous splits in Hollywood history. The ink was barely dry on the divorce documents before the former Frasier star walked down the aisle with his fourth wife, 29-year-old Kayte Walsh.
Catching boy toy husband Ashton Kutcher cheating for the second time in just over a year was too much even for Demi Moore! The Striptease star announced she was filing for divorce from the Two And A Half Men actor after details of his drunken hook up in San Diego with Sara Leal emerged in October. Ashton's wild night out featured booze, babes and a hot tub, and ended with him bedding the party girl at the Hard Rock Hotel in a raunchy hook-up that will go down in Hollywood cheating history.
Article continues below advertisement
Most Americans weren't even familiar with the name Jerry Sandusky until November, when disturbing details of his alleged child abuse rocked not only Penn State University, but the whole of the country. The former defensive coordinator for the school's revered football team was charged with 40 criminal counts in connection with accusations made by numerous victims and is suspected of assaulting over a span of decades.
Notorious party animal Charlie Sheen went from one of the highest paid actors on television to the biggest scandals in Hollywood with a high-profile meltdown that included hookers, cocaine, arrests, insulting network executives, crazed webcam rants, and ultimately ended with him getting fired from his $2 million an episode job on Two And A Half Men. Currently sober, shamed Sheen has most recently been helping ex-wife and mother of his twin sons, Brooke Mueller, with her addiction and legal issues.
Article continues below advertisement
It's usually drinking or drugs that lands Lindsay Lohan in court, so the troubled star surprised everyone when she was arrested for the theft of a high-end piece of jewelry from a boutique in Venice, California . The Mean Girls star was on probation at the time the necklace went missing, which she was captured wearing by surveillance cameras. She went on to plead no contest to misdemeanor theft and probation violation.
They say once a cheater, always a cheater -- and Jesse James certainly supports the theory! After his marriage to Sandra Bullock exploded, the Monster Garage star got engaged to tattoo artist Kat Von D. Despite sharing a passion for getting inked, the couple split up in a similar spectacular fashion when Kat announced on Facebook that he had been cheating on her too. In a lengthy Facebook blog titled "Thank You, Jesse James," Von D revealed that her relationship with Jesse was "toxic" and that she had just "encountered" the 19th woman he'd cheated on her with during their relationship.
Article continues below advertisement
And let's not forget other notable scandals of the year!
Kate Hudson's father, Bill, spilled shocking family secrets in his tell-all, 2 Versions: The Other Side of Fame and Family; Linda Evangelista revealed Salma Hayek's billionaire hubby, Francois Henri Pinault is the father of her son; Soap star Katherine Kelly Lang's son was revealed to be a gay porn star; presidential candidate Herman Cain was accused of sexual harassment by numerous women; Gerard Depardieu added a whole new meaning to Watergate and fashion designer John Galliano was dragged to court after being filmed engaging in an anti-Semitic rant.