Tobey Maguire Sued Over Multi-Million Dollar Illegal Poker Game; DiCaprio, Affleck & Damon Involved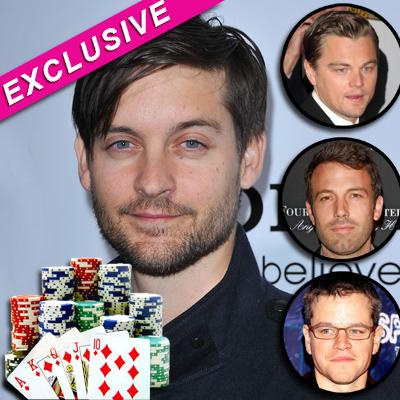 By Dylan Howard - Senior Executive Editor, Star magazine
Spider-Man star Tobey Maguire is among more than a dozen high-profile Hollywood people being sued in connection with a mega-millions illegal gambling ring that ran high-stakes underground poker games, Star magazine is reporting exclusively.
DOCUMENTS: Tobey Maguire Sued Over Illegal Poker Game
Maguire, 35, won more than $300,000 from a Beverly Hills hedge fund manager who embezzled investor funds and orchestrated a Ponzi scheme in a desperate bid to pay off his monster debt to the star and others, it's alleged.
Article continues below advertisement
An FBI investigation into Brad Ruderman, the CEO of Ruderman Capital Partners, uncovered how he lost $25 million of investor money in clandestine poker games held on a twice weekly basis in suites at the luxury Beverly Hills hotel, Four Seasons, and the Viper Room on Sunset Boulevard.
Tinsel town A-listers Leonardo DiCaprio, Ben Affleck and Matt Damon also played in the no-limit Texas Hold 'em games which had a buy-in of $100,000, multiple members of the ring told Star. DiCaprio, Affleck and Damon are not being sued.
Leonardo & Blake Lively In Italy
Others who were part of the secret society and are facing hefty lawsuits include billionaire businessman Alex Gores, The Notebook director Nick Cassavetes, Welcome Back, Kotter star Gabe Kaplan, Paris Hilton's infamous sex tape partner, Rick Salomon, record label owner Cody Leibel and Las Vegas nightlife entrepreneur and real-estate developer Andrew Sasson, among others.
Article continues below advertisement
DOCUMENTS: Read Lawsuit Against Alex Gores
Now, as Ruderman sits in a Texas jail until 2018, convicted on two counts of wire fraud and two counts of investment adviser fraud, lawyers for the clients whose funds he embezzled are filing a series of civil suits against those who won big in the illegal poker dens, in the hope of recouping some of their lost savings.
The games were "exclusive events, by invitation only, and that there was a regular roster of players consisting of wealthy celebrities, entrepreneurs, attorneys and businessmen," according to the lawsuit filed against Maguire in the United States Bankruptcy Court, in Los Angeles.
Ruderman lost $311,300 to Maguire, including one losing hand of $110,000, on July 30, 2007, it's claimed.
The Ponzi mastermind used clients' money to "pay for gambling losses at clandestine, high stakes poker games that were operated without any licenses or permits," the suit said.
Article continues below advertisement
"As part of the scheme, funds invested in (Ruderman) were transferred to persons such as Defendant (Maguire), who received the funds on account of Ruderman's gambling losses and on account of Defendant's gambling winnings."
In their attempt to win back Ruderman's losses, the trustee has claimed Maguire is "not entitled to receive the transfers from the Debtor, which transfers were compromised of improperly-diverted investor funds."
In a deposition of the alleged ringleader of the operation, which took in tens of millions of dollars beginning in 2006 through 2009, Maguire is described as a "very, very frequent player," in the games, which ended in 2009.
All Aboard! Leo's Supermodel Girlfriend Sets Sail With Armani
Maguire won as much as $1 million a month over a period of three years, one source told Star, which is on newsstands Wednesday.
Article continues below advertisement
"That means he could have made up to $30 to $40 million from these games," the whistle-blowing card shark predicted.
Under California law, it's illegal to play for money at underground poker clubs, although it is a crime rarely prosecuted. None of the participants are under criminal investigation, Star has been told.
Matt Damon & Ben Affleck: Boys Poker Night
Indeed, it's understood Maguire has hired an attorney to strenuously defend the allegations against him, who will argue the games were not illegal.
In a world exclusive investigation, Star detailed how the A-list aces used secret passwords to play in the covert games that were so intense, the door was manned by armed guards in bulletproof vests.
Inside the rooms, tucked away in different locations around Los Angeles, high-rollers laid down wads of cash on felt-top tables presided over by professional dealers who were part of the operation's hierarchy.
Article continues below advertisement
Bar Refaeli At Cannes Beaver Premiere
One of the participants, Dan Bilzerian, told Star that he regularly played against DiCaprio, Affleck and Maguire.
Damon, according to Bilzerian, played irregularly.
While Affleck, who won an Academy Award for his screenplay Good Will Hunting, impressed players with his poker skills, both DiCaprio and Damon did not fair as well, Star reported.
"Matt never won,'' another whistle-blowing player told the magazine.