First Photo Of Justin Bieber's Alleged Baby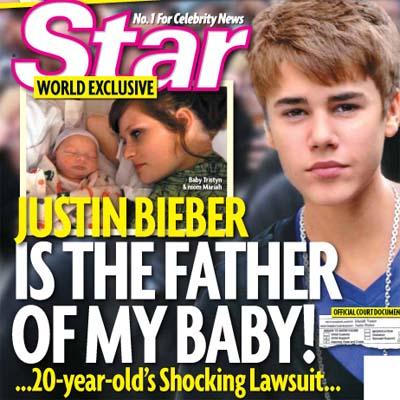 Senior Executive Editor, Star magazine
Editor In Chief, Star magazine
This is the first photo of the three-month-old baby -- who according to a lawsuit filed by a 20-year-old Californian woman -- was secretly fathered by singer Justin Bieber.
Star magazine obtained this world exclusive photo of Tristyn Anthony Markhouse Yeater, who was born on July 6. He is pictured with his mother, 20-year-old Mariah Yeater, who filed a paternity lawsuit against the 17-year-old pop idol on October 31.
Article continues below advertisement
In a hand-signed affidavit, sworn under the penalty of perjury, Yeater told a California court that Bieber propositioned her on October 25 of last year, when she was 19.
The pair had a sexual tryst after his concert and backstage at L.A.'s Staples Center, it's alleged in court papers.
Bieber's rep denies the allegations, telling RadarOnline.com: "While we haven't yet seen the lawsuit, it's sad that someone would fabricate malicious, defamatory, and demonstrably false claims. We will vigorously pursue all available legal remedies to defend and protect Justin against these allegations."
Star magazine breaks the full story of the lawsuit over the alleged sexual encounter in its new issue, which hits stands Thursday.
Mariah told a judge, "When I later realized I was pregnant with Justin Bieber's baby, I tried to contact him through his representatives but no one ever called me back."
She added: "On July 6, 2011, I gave birth to a baby boy. That was exactly 36 weeks and two days after the sexual encounter with Justin Bieber. Based upon the timing as well as the fact there were no other possible men that I had sex with that could be the father of this baby, I believe that Justin Bieber is in fact the father of my baby."
Article continues below advertisement
Bieber's reps have strenuously denied Yeater's claims, saying it would have been impossible for the singer to be alone with the woman backstage at the concert.
Yeater is on public assistance but is asking the court for Bieber to take a paternity test and provide support for Tristyn.
A California court has set a hearing on the matter for December of this year.
RELATED STORIES:
Mel B's 12-Year-Old Daughter Files Battery Report Against Her Father