Father Of Dog's Grandson Threatens Neighbors 'Are Gonna Get Their Ass Kicked!'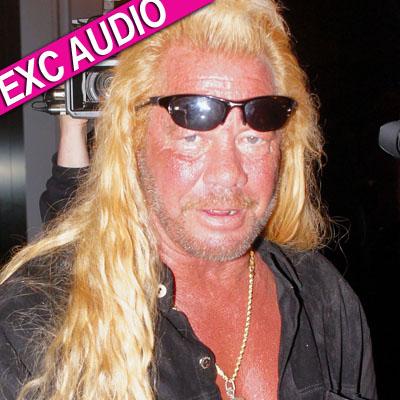 Editor in Chief, Star Magazine
Warning: Audio contains profanity.
New audio adds an explosive dimension to the custody battle between the Duane "Dog the Bounty Hunter" Chapman and the father of his grandson.
Star magazine obtained the recording, which feature Travis Mimms Senior exploding in a profane rage and threatening to physically harm his neighbors. You can listen to the audio here on RadarOnline.com.
Article continues below advertisement
Mimms' meltdown was taped right before Star's exclusive audio of a violent father-son exchange that helped Chapman get temporary custody of his grandson "Little" Travis, whose mother Barbara-Katie died in a 2006 car accident.
Read Dog the Bounty Hunter's restraining and custody order papers here.
Dog claims the voices on that audio belong to Mimms senior and his son and that the man beats the boy 13 times. Star magazine broke the story that a judge issued a restraining order for the minor against his dad, and granted temporary custody to Chapman.
Mimms senior is fighting back and has his own restraining order against Chapman. But he erupts on the new audio when Chapman tells him that Social Services is now interested in the matter. Mimms emphatically denies he's ever hurt the boy -- but threatens to inflict pain on the people next door, who he believes recorded him.
Listen to the exclusive audio on RadarOnline.com
"I've never done anything to hurt my f***ing child!" the 6-foot-9 Mimms yells. "I've never hurt my child, I've never even left a mark on him, I've got people that are always f***ing with me ... you think I would hurt my child?
Article continues below advertisement
"I sure will f***ing hurt some neighbors upstairs though ... because I got some scandalous, b****-ass motherf***ers upstairs that are gonna get their ass kicked!"
Chapman tries to play peacemaker, telling Mimms the issue was with Social Services, not the neighbors. At that point, the mercurial Mimms can be heard shouting toward the neighbors he feels wronged him.
"I've got Dog on the phone right now, you wanna record me?" Mimms barks. "You don't know what's going on with my kids!