Exclusive
Dog The Bounty Hunter Hit With Restraining Order By Father Of His Grandson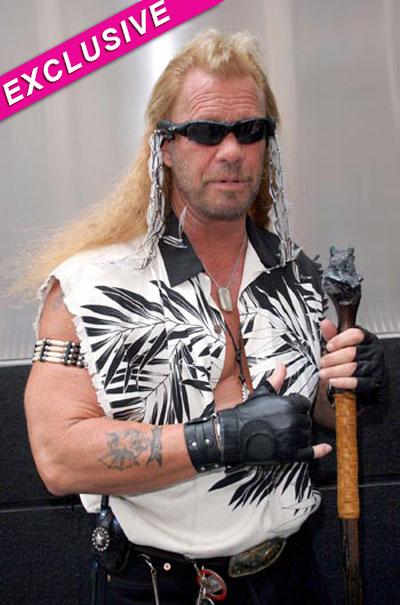 Star Magazine, Editor in Chief
Duane "Dog the Bounty Hunter" Chapman has been hit with a restraining order by the father of his grandson, Star magazine is reporting exclusively via RadarOnline.com.
Travis Mimms had a son with Duane's daughter Barbara-Katie Chapman, who died in a car accident in 2006 at the age of 23. Mimms and his roommate plus a girlfriend, were granted a temporary restraining order against Dog, his wife Beth and his daughter Lyssa on October 19.
Article continues below advertisement
A hearing has been set for October 28.
"There is a lot going on," Mimms told Star magazine on Friday, confirming that he obtained the TRO but refusing to elaborate. "I can't talk about it at the moment."
Mimms is the father of Dog's 9-year-old grandson, also named Travis, and Star has learned exclusively that the two adults had a falling out more than a year ago but recently reconnected.
At one point Mimms worked for Chapman, whose A&E reality TV show has been on air since 2004.
The restraining order was issued in Hawaii, where all the parties reside.
Mimms told Star magazine that he has retained a lawyer in the matter. The Chapmans have not issued a comment.
Star has learned that at one point Chapman helped Mimms with housing and other living expenses and that the two men have had significant contact recently.
Chapman's daughter Barbara-Katie gave custody of her son to Duane one year before she died. She was battling a drug problem at the time and one source tells Star that she did not want Travis raising their son. But six months after Barbara-Katie died Travis approached the Chapmans and asked to be in his son's life. The Chapmans helped him financially and eventually Travis started caring for the child full time.