Exclusive
Dog The Bounty Hunter's Wife To Randy Quaid: 'We're Gonna Get Ya!'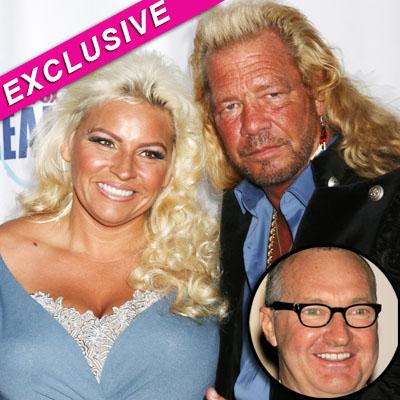 By Amber Goodhand - RadarOnline.com Reporter
Duane "Dog" Chapman and wife Beth love a good chase and now they're after Randy Quaid, RadarOnline.com has exclusively learned.
Quaid fled the United States with his wife Evi after the two were facing charges for damaging a home they once owned and failing to pay hotel bills and the bizarre couple made a new home in Canada, where Evi has citizenship.
Beth reached out to Randy on Thursday via an open letter on her website in which she rails him for sucking "other unsuspecting folks into your drama" and promises "we're gonna get ya no matter where you go no matter how long it takes."
Article continues below advertisement
"As my husband, Dog the Bounty Hunter, was crossing the border into Canada today, it crossed my mind how scared you must be!" Beth wrote.
"Every time you hear his name associated with yours, every time you leave your house, and every time you tippy toe across the border, you must get a sick feeling in the pit of your stomach. I bet you wonder if he's out there."
Dog and Beth are infamous for their ability to recover fugitives and arrest those that have broke the terms of their bail agreements, and it's all documented on their A&E show, Dog the Bounty Hunter.
"Life on the run isn't so glamorous, is it?" Beth sarcastically writes to Randy.
"If you had posted cash in the first place, then the only victim would be those people whose land you trespassed on... You ran! You got citizenship under your 'Ol lady's skirt. You got away! The bondsman gets screwed. Your reputation is ruined forever! Now that's where we come in!"
In July, U.S. officials rejected a request to extradite the Quaids back to the United States, but they can still be arrested if they step foot on American soil in the future. The oddball couple claimed they were being targeted by 'Hollywood Star Whackers' who had also went after Heath Ledger, Mel Gibson and David Carradine.
MORE ON:
Dog The Bounty Hunter
Article continues below advertisement
"We all know you have successfully fled the country. It is one thing to be so desperate that you were forced to run for your life…but that's just not believable anymore! "Star Whackers"?" Beth wrote.
"You are a fugitive! YOU'RE FREE GAME! And we're gonna get ya no matter where you go no matter how long it takes. 'You can run but you can't hide,' from the long arm of the Dog."
Beth goes on to express that she knows what it feels like to be "hunted" because there was a time when Mexican authorities were trying to extradite her husband and son — so she reaches out with sympathy to Randy, begging him to let them help negotiate their surrender.
"We are reaching out to you, Randy. If you want our help now's the time to ask. We're all about 2nd chances if you need one now is the time! Do the right thing!" she wrote in her blog.
"At the end of the day, my husband will not break the law to catch a law-breaker! He will not try to apprehend you while you're safe and sound on Canadian soil. He might even meet you for a beer! But if you cross that border … BRAH! 'You too can be the next contestant on the Dog the Bounty Hunter show!'"