Exclusive
Dog The Bounty Hunter Wins Custody Of Grandson After Shocking Audio Tape Surfaces – Listen To It Here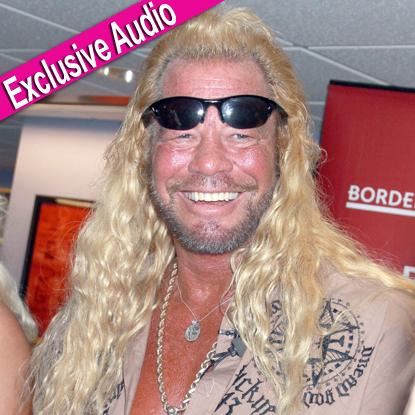 Editor in Chief, Star Magazine
WARNING: This audio contains graphic language and content of what appears to be a child being beaten.
A disturbing audio recording that appears to capture a horrific beating of a child is at the center of a court battle that has caused a judge to grant temporary custody to Duane "Dog the Bounty Hunter" Chapman of his grandson, Star magazine is reporting exclusively.
Article continues below advertisement
On October 21, Chapman obtained temporary custody of Travis Mimms, 9, the son of his late daughter Barbara-Katie Chapman. The boy lives with his father, Travis Senior.
Star magazine has exclusively obtained an audio recording that is at the center of the situation and on the highly disturbing recording, which was submitted to the court, the nine-year-old appears to be receiving a severe beating -- allegedly from his father. You can listen to the tape here on RadarOnline.com.
A man alleged in court to be Travis Senior is heard yelling at a young boy, who sources tell Star is Travis Jr. The chilling tape captures what Dog's family alleges is the boy being hit 13 times and crying, as the man curses him and erupts in anger.
In a dramatic scene late on October 21, police removed the child from the custody of his father and handed him over to Chapman, who was with his wife Beth and daughter Lyssa. Approximately seven police cars descended on the Mimms' residence.
Article continues below advertisement
Chapman, star of the A&E reality TV series that follows his bounty hunting adventures, told Star magazine exclusively that he was deeply saddened by the events but did what was needed.
"I don't want to take my grandson's dad away from him," Chapman told Star. "I want him (Travis Senior) to take parenting classes. We had to get Travis (junior) out of that situation.
"I was beaten by my father, too. But we have to break that cycle."
A judge agreed with Chapman's request for a temporary restraining order against Travis Senior on behalf of Travis Junior and filed by Chapman who then gained temporary custody.
Read Dog the Bounty Hunter's restraining and custody order papers here.
On the shocking audio a man's voice booms: "Bend over, bend the f**k over. You know what to do." That man, alleged to be Travis Mimms seconds before administering a beating to his son. Two loud smacks are heard immediately after the cursing.
Article continues below advertisement
The man then bellows: "Move, move" and a child is heard crying. The sources identify the child as Travis junior.
As the sounds of an apparent horrific beating continue, the man yells "Move your hand. MOVE IT!" The child cries, "No more daddy, please." The child can be heard crying and in distress at various points on the recording.
Beth Chapman told Star magazine exclusively: "This is all about protecting a little boy, not about hurting his dad. We're doing what we have to do. We want Travis Senior to get help."
Star magazine previously broke the story on RadarOnline.com that Travis Mimms obtained a restraining order last week against Dog, his wife Beth and daughter Lyssa. He claims they have been harassing him, accusing him of beating his child and slandering him.
But that preemptive strike came only AFTER both the police and Child Protective Services were notified with allegations that Travis was beating Dog's grandson.
Article continues below advertisement
Police refused to comment to Star about the investigation but sources tell us it is still ongoing and that Travis senior and Travis junior both spoke to a detective at their home. CPS did not return calls.
Star has learned that Travis Jr. told a friend his father was beating him and the friend told his parents. The parents notified Travis' school and one source says the school then confronted Travis Senior.
That scenario appears to fit with what is heard on the audio recording. As the apparent beating is underway the man's voice yells, "now you can f**king go to school and complain."(That occurs 46 seconds into the tape.)
While some parts of the tape are difficult to hear, the man's rage is clearly audible as are the sounds of the apparent beating.
At the 2:16 mark on the tape the man says: "it's too late dipsh*t, it's too late. You're not backing out now you've already told all these kids."
Article continues below advertisement
Sources tell Star magazine that is a reference to Travis having told his friends that his father hits him.
When asked for comment by Star on the situation, Travis senior hung up.
Travis senior worked for Dog and also received financial assistance from him at one point. When Dog's daughter passed away, Dog and Beth raised Travis junior and eventually turned him over to his father after integrating him into the child's life.
But the two men had a falling out approximately a year ago and have not seen each other for a year.
Chapman was recently told by an unidentified person that Mimms was back in town and abusing his grandson. The Bounty Hunter spoke to Mimms by phone and begged him to get help.
Mimms denied hitting Travis junior and then admitted to administering only three spanks, Star has learned. Mimms claimed he hit the boy "once for me, once for him and once for God."
Article continues below advertisement
When the disturbing audio surfaced, Chapman went to the police who interviewed Mimms but left him with custody of the boy.
A judge, however, reached a different conclusion after hearing the tape on October 21.
Mimms was aware of the child beating allegations when he, his roommate and a girlfriend had earlier obtained restraining orders against Chapman.
At one point he told Chapman that he wasn't afraid of any audio tape surfacing and that he had done nothing wrong. "The only thing that will be on the tape is me yelling at him to do the right thing," Mimms said.
The recording of the alleged beating obtained by Star magazine and broadcast on RadarOnline.com has been modified to drop out background noise in order to more clearly hear what is occurring. No audio or dialogue has been added and it has not been spliced.
It is a shocking audio that has elicited strong emotions from most whom have heard it and brings the issue of potential child abuse onto the national stage in a graphic manner.
Article continues below advertisement
The court battle between Chapman and Mimms is not over, with one hearing scheduled on the restraining order Mimms obtained and another set for November 4 concerning the restraining order Chapman obtained.
Mimms contends in his court papers that Chapman threatened him numerous times and said he had a recording of Mimms in his house. He claims his son is scared of Duane and Beth Chapman and that Duane threatened to kill him. His roommate works for Tim Chapman and alleges in court papers that Duane threatened to "ruin" him.
Government statistics show that complaints to child protective services agencies alleging six million children were abused or neglected were received during 2009. "One-quarter of the CPS responses determined at least one child who was found to be a victim of abuse and neglect," according to a report from the Department of Health and Human Services.
Contact local law enforcement or your state's child protective services agency if you suspect a child is being abused or neglected.