Michael Lohan Arrives At Jail Again, This Time In A Wheelchair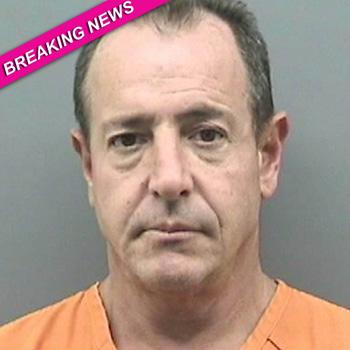 Michael Lohan has been released from the hospital and is back in jail, RadarOnline.com has learned.
After a week that must have felt like Groundhog Day for Lindsay's dad, the 51-year-old was released from Tampa General Hospital late Friday afternoon where he had been treated for a suspected foot injury and returned to the jail.
Dressed in prison orange and wearing handcuffs, the troubled Lohan family patriarch was transported to the facility in a sheriff's van and lowered down in a wheel chair before being pushed inside for security checks.
Article continues below advertisement
As RadarOnline.com previously reported, he was booked -- in absentia -- back into the Orient Road jail in Tampa, Florida early Friday morning .
A jail spokesperson exclusively told RadarOnline.com that Lohan was "remotely booked" into the jail system while still being held at the hospital under police guard, which places him under the authority of the Hillsborough County Sheriff during the remainder of his medical treatment.
"He is expected in court on Saturday or Sunday morning," Larry McKinnon, spokesperson for the Hillsborough County Sheriff's Office, exclusively told RadarOnline.com.
"They decided to admit him into the hospital for various medical reasons on Thursday, and was transferred from the hands of the Tampa Police Department to us later that afternoon," he added.
Lohan has now been charged with violation of a pretrial condition, two violations of a domestic violence injunction, and obstruction of an officer without violence.
Article continues below advertisement
As RadarOnline.com previously reported, Lohan was taken into custody shortly before 2am Thursday when he allegedly violated the terms of his release from jail by calling his ex gal pal Kate Major on the phone late Wednesday night, less than 48 hours after his arrest on battery domestic violence charges in connection with a fight they'd had.
Tampa police said when they tried to catch up with the New York native at the Tahitian Inn in the early hours of Thursday where he staying, Lohan jumped out of a third story balcony before running from officers, who apprehended him after a foot chase.
"I saw a subject on the second floor hiding behind a pillar," the police report states. "I yelled the def's name and told him to come down and talk. This def tried concealing himself a little more but decided to run up a stairwell as we approached him.
"As we went out to the balcony to look around, we saw the def fall from a 3rd floor balcony next to the one we were standing on."
Lohan tumbled 34 feet to the ground and came crashing down on top of wooden high chairs that were laying on the ground. He then scurried into a some trees directly below where he was apprehended by police.