Judge Warns Michael Lohan: 'You Even Dream Of Her And You're Going To Jail'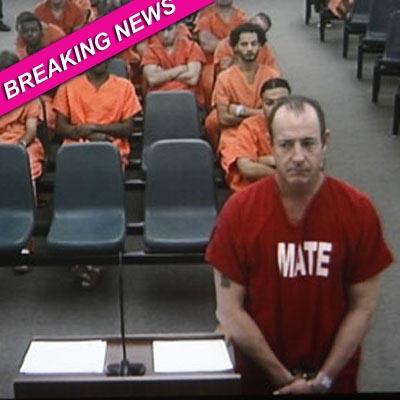 Michael Lohan was back in a Florida court on Wednesday morning facing charges of domestic battery, RadarOnline.com has learned.
Lindsay's dad appeared exhausted and serious as he stood handcuffed in front of the judge in Tampa, Florida, who told him not to even "dream" about his ex-girlfriend, Kate Major.
As RadarOnline.com previously reported, Lohan was arrested for battery domestic violence and was taken into custody in the early hours of Tuesday morning after getting into an argument with former fiance, Kate.
Article continues below advertisement
He had been held in jail ever since and was granted a $5,000 bond on Wednesday after over 24 hours in custody.
Judge Walter Heinrich Jr. told the 51-year-old to stay away from Kate, 28, at all costs. "You even dream of her and you're going to jail," he said.
The judge ordered that Lohan be detained until 6pm ET until the authorities could determine whether a warrant had been issued out of Sarasota County involving a temporary restraining order sought by Major, reported TampaBayOnline.com.
When the police responded to Major's 9-1-1 call on Tuesday, they said they arrived to a tense scene between Lindsay's father and the journalist who famously dated reality star Jon Gosselin two years ago.
"As we approached the door, we could hear a female yelling 'Stop' and 'Leave me alone,'" police said, adding Lohan was "wearing only shorts, and was out of breath/sweating" when he answered the door.
Article continues below advertisement
"He immediately got defensive, saying, 'Everything is OK and nothing happened here,'" police said. "The victim started yelling in the background for us to help her because he was lying. We separated the two at this time."
Major told officers Lohan repeatedly pushed her, squeezed her arms and "told her he would slit both his wrist and her wrist."
After Lohan threatened to throw Major off the 4th floor balcony, Major told officers, he "threw the remote control at her, but missed."
Lohan told police Major told him she drank a bottle of wine and took some of her medication. He said he had to go pick her up because she was too intoxicated.
Lohan told police he and Major "got back to their apartment and had sex.
"Major did not want Michael to ejaculate inside her; Lohan stated he did ejaculate in her and his girlfriend got very angry," police wrote. "The two argued and Major told him she might be pregnant from previous sexual encounters with him. They argued some more."
Article continues below advertisement