Dr. Drew On Michael Lohan Arrest: 'I Knew He Would End Up In Jail Again'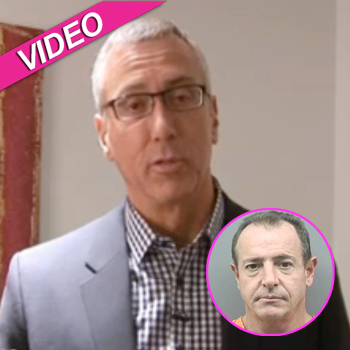 By Amber Goodhand - Radar Reporter
Michael Lohan was arrested Tuesday morning for battery domestic violence and Dr. Drew Pinsky says he knew the Lohan patriarch would end up in jail again, RadarOnline.com has learned.
Michael, 51, appeared on Season 5 of Dr. Drew's Celebrity Rehab and the good doctor has still been in touch with Michael, but says that his relationship with on-again-off-again girlfriend Kate Major is toxic.
Article continues below advertisement
"At the time of his discharge, Bob Forrest and I both told him that he would end up in jail again," Dr. Drew said on Tuesday in a video message obtained by RadarOnline.com, recalling when Michael left his treatment facility.
"Mike's been doing okay. He's working, he's trying to do better but this is really a back slide to a complete reversion to his old behaviors. This is what he and Kate do routinely. This is the pattern they're in. Unless they both go get treatment, this isn't going to change!"
Michael's arrest came after Kate alleged that an argument involving sex escalated and resulted in Michael attacking her.
"Mike knows what he needs to do," Dr. Drew said. "He just needs to get back in the game and do it!"
Michael currently remains in custody at the Hillsborough County Sheriff's Department in Tampa, Florida and is awaiting a court appearance.
Watch Dr. Drew's message below: