Michael & Lindsay Lohan: His & Her Matching Mug Shots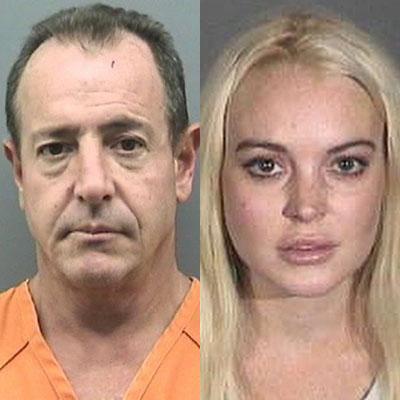 Warning: This story contains explicit content.
October has not been a good month for the Lohan family.
Within the same week, father Michael and daughter Lindsay have each had new mug shots snapped of them from coast-to-coast.
As we previously reported, a Los Angeles judge found Lindsay in violation of her probation during a testy 40-minute hearing last Wednesday, when she chastised the actress for racking up "violation after violation" in her probation. The 25-year-old was cuffed and processed through the system -- posing for a mug shot -- before posting the required 10% of $100,000 bail needed for her release.
Article continues below advertisement
Michael was arrested shorting before 2am ET Tuesday in connection with domestic violence assault on his on-again, off-again girlfriend Kate Major. Sex seems to be a trigger in the incident, according to the police report, as Kate claimed Michael was upset she wouldn't perform oral sex on him, while Michael claims Kate was mad because, against her wishes, he ejaculated inside her. Bail has not yet been set for Michael.
MORE ON:
hollywood happenings