Kate Major: Michael Lohan Attacked Me Over Sex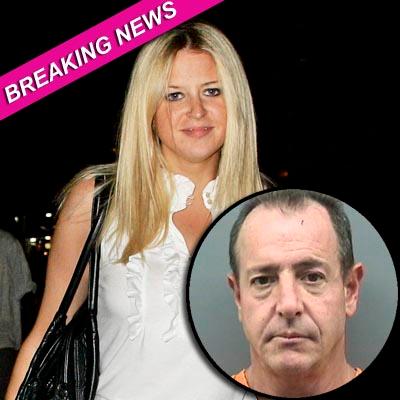 Warning: This story contains explicit content.
Kate Major claims an argument involving sex escalated into Michael Lohan attacking her.
As RadarOnline.com previously reported, Lohan was arrested early Tuesday for battery domestic violence against Major, his on-again, off-again gal pal.
The dad of troubled actress Lindsay Lohan was taken into custody by police in Tampa, Florida shortly before 2 am ET after officers responded to reports of a fight in an apartment.
Article continues below advertisement
Before being booked into Hillsborough County Jail, Michael, 51, was taken to St. Joseph's hospital after complaining of chest pains while he was arrested.
Police said that by complaining of chest pains, Lohan "was hoping this would prevent him from going to jail, and in fact, signed himself out of the hospital soon after he thought the police left. After he signed himself out, he was transported to booking."
According to the police report, Lohan "grabbed and squeezed" Major's arms and repeatedly pushed her to the ground in Tuesday's incident, leaving her bruised.
Police said they arrived to a tense scene between the show biz father and Major, the journalist who famously dated reality star Jon Gosselin two years ago.
"As we approached the door, we could hear a female yelling 'Stop' and 'Leave me alone,'" police said, adding Lohan was "wearing only shorts, and was out of breath/sweating" when he answered the door.
Article continues below advertisement
"He immediately got defensive, saying, 'Everything is OK and nothing happened here,'" police said. "The victim started yelling in the background for us to help her because he was lying. We separated the two at this time."
Police Document: Read The Arrest Report Against Michael Lohan
Police reported that Major "was crying ... afraid ... shaking and having a hard time catching her breath" when they initially interviewed her.
"She had some redness on her arms with minor bruising on her arm and knee," police said, adding her cell phone was destroyed.
Police said "the bathroom door at their home appeared to have a dent consistent with the height of the Major's head."
Major told officers Lohan came to her apartment Sunday and she let him stay the night. She said that they began fighting, first verbally, then physically, with a frenzied Lohan banging his head "on the door multiple times causing his forehead to bleed."
MORE ON:
hollywood happenings
Article continues below advertisement
Major told officers Lohan said that if she called the police, he would say she caused the injury.
"She regrets not calling the police at this time," police said, "but said she was scared."
Early Tuesday, police said, Lohan got violent with her once again, his temper fueled, in part, over the fact that Major "wouldn't give him a 'blow job.'
Major told officers Lohan repeatedly pushed her, squeezed her arms and "told her he would slit both his wrist and her wrist."
After Lohan threatened to throw Major off the 4th floor balcony, Major told officers, he "threw the remote control at her, but missed."
Police said Lohan then smashed up her cell phone, but she was still able to call the police from the land line.
Major is looking to prosecute, police said.
Lohan told police Major told him she drank a bottle of wine and took some of her medication. He said he had to go pick her up because she was too intoxicated.
Article continues below advertisement
Lohan told police he and Major "got back to their apartment and had sex.
"Major did not want Michael to ejaculate inside her; Lohan stated he did ejaculate in her and his girlfriend got very angry," police wrote. "The two argued and Major told him she might be pregnant from previous sexual encounters with him. They argued some more."
Lohan and Major have a detailed history of domestic violence: In March, Michael was arrested for allegedly assaulting Kate, with police reporting he had attempted to choke her and injured himself to prevent her calling for help. Last July, Kate accused Michael of attacking her at their home in Southampton, New York, claiming he threw her off a chair and kicked her in the face during an argument.