Kate Major's 911 On Michael Lohan: 'I'm Afraid He's Going To Hit Me'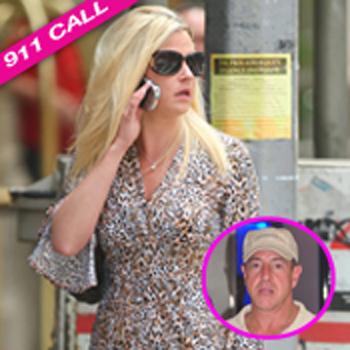 Kate Major called 911 early Tuesday morning claiming that Michael Lohan was attacking her and RadarOnline.com has the audio of her surprisingly calm and hushed call.
"I'm afraid of him. He's going to come in here and hit me," Lohan's former fiancée told the police dispatcher in Tampa, Florida.
Michael was arrested for battery domestic violence and was taken into custody, where he remains in jail awaiting a court appearance.
Article continues below advertisement
As RadarOnline.com previously reported, the situation that caused the argument involved sex.
Starting off in in the call Major sounded nervous as she tried to explain to the operator where she was. "I can't talk. It's in Tampa," she said.
"What's going on?" she is asked.
"My ex-fiancé and I...protection. Immediately please. I can't talk," said Kate. When asked if she can answer "yes or no questions," she replied. "I can't do that. I can't even do this."
The dispatcher told her, "Unless I get the correct address then I can't find you."
"I'll call you back, I have to get my stuff together," said Kate, then Michael can be heard in the background and she calls to him, "I'm talking to my aunt, OK!" before telling the dispatcher that she will call back.
In a second call Major still seems to struggle to remember the address but eventually communicated it correctly.
Article continues below advertisement
Police said they arrived to a tense scene between Lindsay's father and Major, the former journalist who famously dated reality star Jon Gosselin two years ago.
"As we approached the door, we could hear a female yelling 'Stop' and 'Leave me alone,'" police said, adding Lohan was "wearing only shorts, and was out of breath/sweating" when he answered the door.
"He immediately got defensive, saying, 'Everything is OK and nothing happened here,'" police said. "The victim started yelling in the background for us to help her because he was lying. We separated the two at this time."
Police reported that Major "was crying ... afraid ... shaking and having a hard time catching her breath."
Early Tuesday, Major claimed Lohan got violent with her once again, his temper fueled, in part, over the fact that she "wouldn't give him a 'blow job.'"
Major told officers Lohan repeatedly pushed her, squeezed her arms and "told her he would slit both his wrist and her wrist."
After Lohan threatened to throw Major off the 4th floor balcony, Major told officers, he "threw the remote control at her, but missed."
Article continues below advertisement
Lohan told police Major told him she drank a bottle of wine and took some of her medication. He said he had to go pick her up because she was too intoxicated.
Lohan told police he and Major "got back to their apartment and had sex."
"Major did not want Michael to ejaculate inside her; Lohan stated he did ejaculate in her and his girlfriend got very angry," the police report reads. "The two argued and Major told him she might be pregnant from previous sexual encounters with him. They argued some more."