Exclusive
Michael Lohan Remains In Hospital Under Police Guard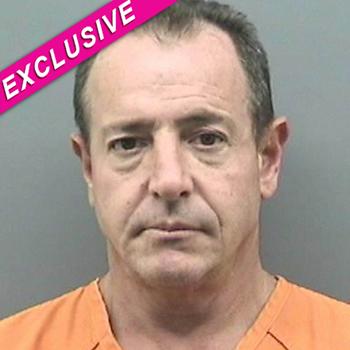 It's been a rough week for Michael Lohan, and it's not getting any easier!
After a dramatic escape attempt on Wednesday night that ended with him falling off a balcony and hiding in a bush, Lohan is still in the hospital being treated for his injuries, RadarOnline.com is exclusively reporting, and is being kept company by a police officer who is keeping a close eye on him.
"Michael is currently in Tampa General Hospital, he is not going to be booked into jail today as they are keeping him in overnight for observation," Andrea Davis, Public Information Officer for the Tampa Police Department told RadarOnline.com.
Article continues below advertisement
Lindsay's 51-year-old dad is expected to be back in the county jail Friday morning if he is given the green light from his doctors. The police officer is stationed outside his hospital room door in case he tries to flee again.
As RadarOnline.com previously reported, Lohan was arrested for the second time in one week when he allegedly violated the terms of his release from jail by calling his ex gal pal Kate Major on the phone overnight, just two days after his arrest on battery domestic violence charges in connection with a fight they'd had.
Tampa police said when they tried to catch up with the New York native at the Tahitian Inn where he staying, Lohan jumped out of a third story balcony before running from officers, who apprehended him after a foot chase.
"I saw a subject on the second floor hiding behind a pillar," the police report states. "I yelled the def's name and told him to come down and talk. This def tried concealing himself a little more but decided to run up a stairwell as we approached him.
Article continues below advertisement
"As we went out to the balcony to look around, we saw the def fall from a 3rd floor balcony next to the one we were standing on.
"The def apparently leaped up from his balcony and grabbed a hold of the roof. He then must have scurried across the roof (about 30 feet) until he thought he was hanging over top of the next balcony. The def then let go but missed this balcony.
"He came crashing down on top of wooden high chairs that were laying on the ground. This fall was 34 feet (measured with laser). The def then hid in some trees directly below where he was apprehended."
Lohan may have suffered a broken foot in the incident, according to police, and is said to have been bleeding from his mouth after biting his tongue.
Lohan told a cameraman on the scene Major "baited" him into calling her by claiming she was about to be evicted from her apartment.
"I'm a sucker," he said. "I'm an idiot."
The latest incident occurred just hours after being ordered by a judge not to "even dream" about Major.