Exclusive
Lindsay Lohan To Dad: Don't Come To My Court Hearing Next Week!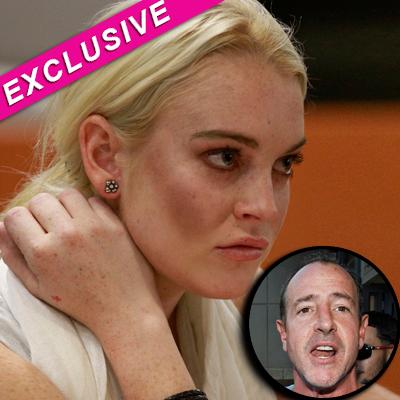 Lindsay Lohan will be telling her dad, Michael Lohan, who is currently behind bars for the second time in less than a week on domestic violence charges, to not come to her probation violation hearing next week, RadarOnline.com is exclusively reporting.
Michael Lohan was arrested again after police in Tampa said he violated the terms of his release from jail by repeatedly calling his ex gal pal Kate Major on the phone overnight, just two days after his arrest on battery domestic violence charges in connection with a fight they'd had. Police said when they tried to catch up with the New York native at the motel he was staying at (Tahitian Inn), Lohan jumped out of a third story balcony before running from officers, who apprehended him after a foot chase. (Lohan injured his foot in the fall and bit his tongue, causing him to bleed.)
Article continues below advertisement
POLICE DOCUMENT: Read Michael Lohan's Latest Arrest Report
Lindsay has a probation violation hearing next Wednesday (November 2) in connection with her shoplifting conviction. Judge Stephanie Sautner found cause to revoke LiLo's probation after she was booted from the Downtown Women's Center, where she was ordered to perform community service, after failure to appear on multiple occasions.
"The last thing Lindsay needs is Michael showing up at her probation violation hearing. Neither the City Attorney, or Lindsay's attorney would call him as a witness, but Michael creates his own rules, and has publicly said that he would talk to the judge, the probation officer, and the district attorney involved in Lindsay's case. Lindsay's attorney, could easily point to Michael Lohan if he appears, and tell the judge, 'look at the gene pool my client comes from, her father was allegedly drunk, and fell out of a tree fleeing from the police,'. Lindsay is very concerned about her father, but she has enough going in her world right now, and she feels that it's best if he just stay away," a source close to the situation tells us.
Judge Sautner could sentence Lohan up to 18 months of jail time if she determines that the actress has formally violated terms of her probation.
Lindsay's rep told us, "Lindsay does not discuss her father, and I question the credibility of anyone who claims to be Lindsay's friend and then goes running to the media to feed them things she has allegedly said."
RELATED STORIES: