Exclusive
EXCLUSIVE: Movie Producer Suspects Cops Of 'Foul Play' In Lindsay Lohan Jewelry Theft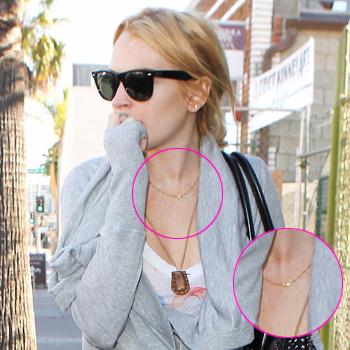 Lindsay Lohan's first post-rehab film producer and self-proclaimed "legal consultant" are stirring up new drama in the jewelry heist case, with sensational claims of "foul play" on behalf of the Los Angeles Police Department.
Nathan Folks, who has cast Lohan in his upcoming crime drama Escaping the Game, told RadarOnline.com it was he who engaged Keith Middlebrook, who is not a lawyer, to form a legal team "second to none" which supposedly has a proven track record of resolving most cases without jail time.
Article continues below advertisement
"Usonian Entertainment hired Keith to make sure that everything was done correctly to keep Lindsay out of jail," Folks told RadarOnline.com in an exclusive interview.
"If it ends up that she gets any jail time it will be because there is foul play on the part of the West Coast Division of the LAPD and of the jewelry store."
"My personal research has led me to believe this, which is why I took the immediate liberty to help my good friend and future star of my film Lindsay Lohan and bring on some of the best legal consultants money can buy."
Despite the pair's bold declarations, a source involved in Lohan's actual legal team, led by Shawn Holley, insisted Middlebrook "seemed to offer nothing" to her defense.
In response, Middlebrook told RadarOnline.com: "I have been appointed Legal Consultant for Lindsay Lohan by Lindsay herself."
Lohan has pled not guilty to felony grand theft charge relating to a January 22 heist of a $2,500 necklace, nearly three weeks after the actress was released from three months of court-ordered rehab at the Betty Ford Center.
Article continues below advertisement
"Based upon a review of the necklace accusation and whether or not the probation was violated, my team's opinion was that it would be absolutely ludicrous to accept a plea of any guilt and jail time," Middlebrook said.
"I believe the courts will not let this charade go on too much longer as soon as the real evidence is finally noticed by the judge and the D.A."
Middlebrook said the owners of the Venice based Kamofie & Co. jewelry store were in financial dire and have just been "using the fame of Ms. Lohan" to keep their business alive.
"Since the world has seen the jewelry store surveillance video last week we want to do everything we can to help everyone understand that Lindsay did not intentionally steal a necklace and that this case should have been thrown out of court by now due to lack of evidence," Middlebrook said, in an exclusive interview.
"In the video we can witness that obviously the necklace was given to Lindsay Lohan on loan."
Article continues below advertisement
"The store owner possessed the phone number to Lindsay's assistant and never called as well as the stylist that was present with Lindsay in the video.
"The store owner chose not to call."
A judge last week gave Lohan, 24, two weeks to consider an undisclosed deal to end a felony grand theft case before an upcoming hearing that could send the starlet to jail for the fourth time.
Superior Court Judge Keith Schwartz told the Mean Girls star that he had told her attorney and a prosecutor how he would likely sentence her if she agreed to plead guilty or no contest in the case, but said he would keep the terms confidential.