Exclusive
Hank Baskett's Sordid Pay For Play Scheme: 'He Promised To' Pay Off Transsexual Mistress After Sex, She Claims In New Video Interview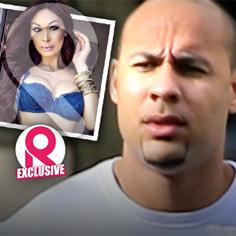 Hank Baskett and Kendra Wilkinson debuted their newest addition, daughter Alijah Mary, with an idyllic family portrait on June 4. But were those happy smiles all an act? Baskett, at least, had something to hide: RadarOnline.com can exclusively reveal new claims from a transsexual model that the same week as the reality star couple revealed their bundle of joy to the world, Wilkinson's former football star husband had paid her $2,000 in attempt to keep her from spilling details about their sexual affair.
Article continues below advertisement
As RadarOnline.com has reported, Baskett met Ava Sabrina London at her condominium in Sherman Oaks, Calif., on April 21 for a pre-arranged hook-up that led to the reality star engaging in mutual masturbation with the video model. Now, his alleged mistress claims that Wilkinson's 31-year-old husband had no intention of cooling things off with her after that.
"He told me he'd keep in touch and we'd see each other again," London said in a sit-down interview with The National ENQUIRER, provided to RadarOnline.com.
"After Hank and I first met he did call me a couple times to see how I was doing and it was very short and vague, but we did plan on meeting again," she added.
London previously gave RadarOnline.com a detailed description of what she says she and the former NFL player did during their first intimate encounter, which some may find shocking given the married father of two has seemingly been happily married since 2009 and plans to celebrate his five-year wedding anniversary June 27: "I started giving him a hand job and he was playing with my penis 'cause he was laying down," London said.
Article continues below advertisement
But unbeknownst to Wilkinson, 29, London claims he had planned on using his former Playboy Playmate wife's hard-earned fortune for his own personal pleasure.
"Hank wasn't specific on how he was going to take care of me, but he promised to take care of me financially," she continued.
And just two weeks after his wife gave birth to their daughter, Baskett was secretly meeting with his mistress to pay her to keep his secret under wraps.
"Hank called me around June 4 to meet him at a gas station so that he can give me money and he kept insisting on it and I said no I wasn't going to meet him there," she claims. "So he ended up coming to my place and he left $2,000."
So no one would see the drop-off, London says, he also left it where only she would know where to find it.
"Hank left me $2,000 in a coffee cup by the pool," she added.
Around that same time, Kendra posted an adorable photo on Instagram of her family's hands interwoven — including son Hank IV, 4, and their weeks-old baby girl, with the caption, "Perfectly woven 'Baskett' family. We are complete."
Article continues below advertisement
Rumors of marital distress have plagued the couple for years, with none so explosive as London's story. Through it all, the TV family has managed to stay relevant with the help of Wilkinson's We TV show, Kendra On Top. And although pro athlete Baskett has been out of a job since 2011, when he wasn't picked up by a football team after his contract ran out in with the Minnesota Vikings, Baskett allegedly has had no problem dropping thousands in an effort keep London happy… and, more importantly, quiet.
Article continues below advertisement
Article continues below advertisement