Exclusive
Kendra Wilkinson's Husband Hank Baskett Abruptly Leaves Their Marital Home -- Ex-NFL Star Checks Into Motel!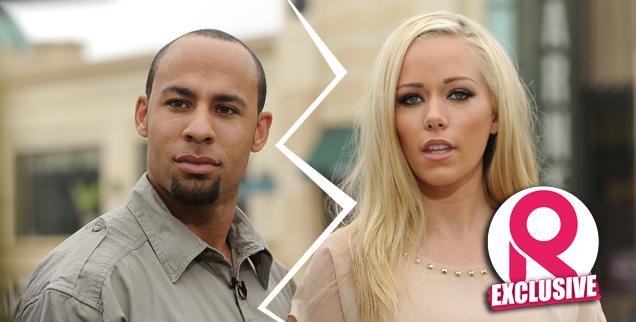 Kendra Wilkinson's husband of five years, Hank Baskett, abruptly left their Calabasas, Calif. home on Friday, RadarOnline.com has exclusively learned.
The explosive development comes just one month after Wilkinson gave birth to the couple's second child, Alijah Mary Baskett.
A reporter for The National ENQUIRER exclusively tells RadarOnline.com that Baskett was spotted speeding away from the home he shares with Wilkinson in their gated community around 4 p.m. PT in his white Jeep, before landing at a local motel.
Article continues below advertisement
"Hank was wearing a royal blue NBA shirt and long khaki shorts. He got out of the Jeep with a woman who appeared to possibly be one of the couples' baby nurses because she was wearing a medical type uniform," the eyewitness tells RadarOnline.com.
"They went into the office of the motel and then pulled the jeep around to the other side where their room was located. Hank appeared disoriented and downtrodden. At one point, he kicked the ground."
Earlier in the day Baskett, 31, attended a Major League Gaming Competition in Anaheim with his father, Hank Baskett Sr.
"Mornin yall! @MrHankBaskettSr & I are on our way down to the #MLGAnaheim championships. Small road trip with pops=good times," he tweeted.
Baskett returned to the couple's home where something possibly ensued, triggering the hostile hotel check in.
Wilkinson, 29, posted an upbeat and positive Twitter message on Thursday — not realizing just a day later the father of her two children would leaving the home.
Article continues below advertisement
"Today will be a great day. I know it. #CarpeDiem #smile #happiness #love #positivevibes."
After checking into the motel, the eyewitness tells RadarOnline.com exclusively that he briefly came back out before quickly retreating back into the motel.
"An hour later, he emerged from the room but then returned back inside," the source said.
Baskett and Wilkinson were married on June 27, 2009 and have two children together; Hank Baskett IV, 4, and Alijah Mary, 36-days.
Article continues below advertisement