Exclusive
Watch: Hank Baskett's Hush Money For Tran$$exual Model At Center Of Cheating Scandal -- How Sex Swap Model Claims He Desperately Scrambled To Keep Affair Secret From Wife Kendra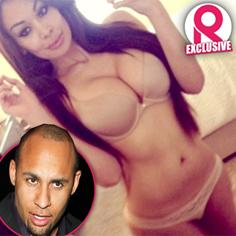 In the days before Kendra Wilkinson reportedly kicked Hank Baskett out of the house amid rumors he had hooked up up with a transsexual, RadarOnline.com has exclusively learned that according to the woman, Hank Baskett was trying desperately to make sure his family never found out the truth about his alleged affair.
In a revealing new interview with RadarOnline.com, via The National ENQUIRER, the transsexual at the heart of the scandal claims that Baskett scrambled to keep her from dishing about the affair, calling her incessantly — and even offering her cash.
Article continues below advertisement
In the weeks after Baskett and the woman, Ava Sabrina London, allegedly hooked up, she claims he became so paranoid that he incessantly called her with desperate pleas to stay quiet, and even told the video model he'd do anything he could to get her $5,000 from his joint banking account he shares with his reality star wife!
"At the end of May when Hank and I started talking, the conversations were more about … if my friend had taken a picture of him and he was trying to figure that out," London claimed during an exclusive sit-down interview with RadarOnline.com. "He was calling me a lot because he had heard that a story was going to be coming out and he had thought my friend had said something or took a picture of him while he was at my house."
"He knows that I'm the only tranny he's been with and I reassured him that I wasn't the one that put the story out," she added.
As RadarOnline.com has reported, the one-time NFL star, who's approaching his five-year wedding anniversary with Wilkinson on June 27, allegedly contacted London after watching her sexy YouTube videos online.
From there, she claimed, they set up a date to meet at her Sherman Oaks, Calif. condo, where things allegedly got hot and heavy fast, with former football player giving – and receiving – a handjob from his mistress, who was born a man.
Article continues below advertisement
But Baskett wasn't convinced his dark secret wouldn't get leaked, and so London claims he promised her thousands of dollars in an effort to shut her up.
"Hank offered me $5000 so that I wouldn't speak to the media," she claimed. "Hank was worried because he didn't want anyone to find out about the sexual encounter that we had."
Only, getting access to that kind of cash wouldn't be easy, London says he insisted.
"He told me he and Kendra shared a combined account and it that it would take him a year to give me the $5,000," she claimed, "but I didn't take the money."
But London may already have received at least one payday. After their first sexual encounter in April, she says Baskett gifted her about $500. And on June 4, just two weeks after his wife gave birth to their baby girl, Alijah Mary, Baskett drove to London's home to give her $2,000 in cash that he left in a coffee cup by her pool as a good faith financial gesture to make her keep his secret, she claims.
Article continues below advertisement
"It's made me really nervous and I'm really not the one even talking, he's doing all the talking and he just wants for me to be on his side and to help him, you know, prepare for what's going to happen," she said of their conversations.
Baskett, she said, was beyond distraught about the idea of the tryst tearing his family apart.
"We never talked about his family up until the end," London said. "Hank was saying that this was going to ruin his marriage and that he didn't want to lose his kids."
But despite the drama that's unfolded over the shocking sexual allegations, London says she hopes Baskett's infidelity won't end his marriage.
"I've told Hank that I think that he did make a bad decision by seeing me when he did before his daughter was born," said London. "But I think I do want him and his family to be together and I don't think this will end the relationship and I hope it doesn't."
Article continues below advertisement
Article continues below advertisement