Exclusive
'He Thought I Was Beautiful': Transsexual Model At Center Of Hank Baskett Cheating Claims Tells All — Including What She Says He Paid For A Steamy Sex Session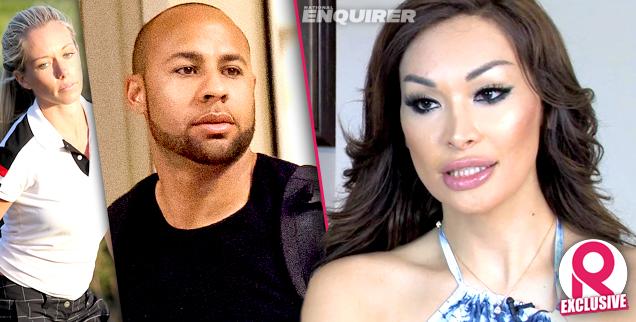 ** Warning Graphic Content **
Just days before Hank Baskett and Kendra Wilkinson were set to celebrate their five-year anniversary on June 27, the couple's marriage was rocked by RadarOnline.com's exclusive report of claims he had hooked up with a transsexual.
Now, only RadarOnline.com can reveal an exclusive interview with the transsexual mistress, Ava Sabrina London, who has come forward to tell her side of the story in light of the explosive reports about their shocking tryst.
Article continues below advertisement
According to London, the affair started just two months ago, when Baskett first made contact.
"I met Hank Baskett probably around the 22nd or 23rd of April this year," London told The National ENQUIRER, which provided RadarOnline.com exclusive access to its tell-all interview. "He contacted me through a video I had posted on YouTube and we exchanged information."
"I gave him the address to my house, he came over," she added. "I wasn't expecting for him to come at the time he did, and I had just gotten out of the pool with my girlfriend."
Dressed only in a bikini, London says she answered the door to find the Kendra On Top star dressed in basketball shorts, sandals and sunglasses.
But at first, London claimed, she had no idea that the man standing before her was a celebrity, and the former Philadelphia Eagles wide receiver took precautions to hide his true identity.
"Hank never identified himself by his real name. But he used, I believe it was Steve as his name," she said.
Article continues below advertisement
Baskett certainly would have had his reasons for attempting anonymity. Not only has the father of two been married to the former Girl Next Door star Wilkinson since 2009, but unlike his wife, the woman he allegedly contacted was actually born a man.
"Hank absolutely knew that I was a transsexual and he told me that I was the only transsexual he's ever been with," London claimed. "He thought I was beautiful."
In fact, it wasn't long after their introduction, she said, that the couple became intimate behind closed doors.
And although Baskett allegedly seemed nervous, London said the 31-year-old was the first to take his clothes off.
"We quickly went to my bedroom where things got a little hot because he had already had taken off his clothes and he was erected," she said of their first alleged encounter. "I started giving him a hand job and he was playing with my penis 'cause he was laying down and I was like, you know, above him, so that's when I realized who he was."
Article continues below advertisement
Although she claimed the two did not have sexual intercourse, she said Baskett still was satisfied.
"He put my penis close to his face and that's when he, you know, he came really quickly," she alleged. "Hank and I gave each other hand jobs and he played with my breasts. And it didn't really go that much further because he had already come."
And, even more surprising, after the act Baskett casually took a shower in London's bathroom to clean up, London claimed.
But their intimate meet-up wasn't for free, according to London. The model alleges that Baskett enjoyed their fling so much, he gifted her about $500 for the 20-minute romp.
"I got up and he took a shower," London said. "And he met my girlfriend after that, shook her hand and he left."
Watch RadarOnline.com's explosive interview with Baskett's transsexual mistress:
radar_embed service=5min.com src="http://pshared.5min.com/Scripts/PlayerSeed.js?sid=1126&width=570&height=351&playList=518284124"
Article continues below advertisement
Article continues below advertisement