Exclusive
Caught On Tape? Transsexual Model Claims Hank Baskett Begged Her To Cover Up Cheating Scandal In Secret Phone Call Recordings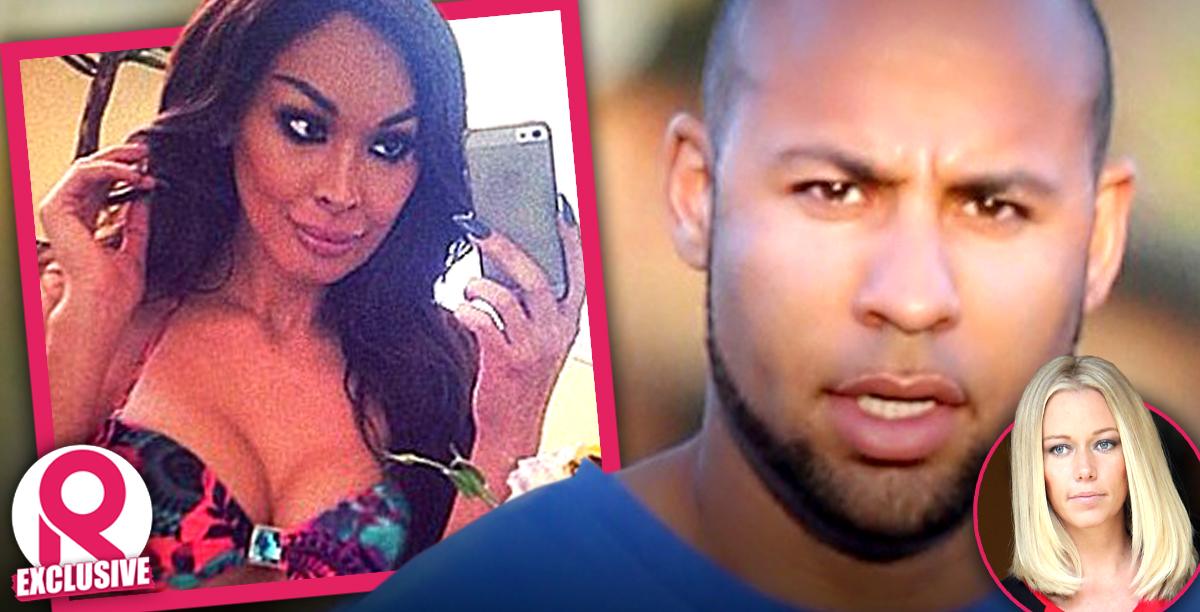 As the cheating scandal involving Hank Baskett and a transsexual was about to explode, was the NFL star was desperately attempting to put a lid on the sex romp? According to the woman at the heart of the controversy, model Ava Sabrina London, the married reality star can be heard in secretly recorded phone calls pleading with his lover not to spill their secret.
In an audio recording dated May 29, heard exclusively by RadarOnline.com, a man that sounds like the former NFL pro — and answers to the name "Hank" — coaches the buxom model, whom he contacted after watching her sexy YouTube videos, on what to say if the media starts getting suspicious.
Article continues below advertisement
"They called my reps and asked if it was true and I just wanted to confirm with you that you hadn't said anything," "Hank" tells London. "They just said two weeks before Kendra was pregnant that I hooked up… I hate to say it 'cause I would never say this word, but they said I hooked up with a tranny…"
"I didn't say nothing," London assures him.
"I promise you I'll take care of you over time, I will make sure I reimburse you. Just please, if they come to you, please, don't say anything," the man on the phone begs. "And all you have to do is say no, it didn't happen."
London informed "Hank" that she was offered $5,000 when a reporter asked her to confirm the sordid story. He seemed beyond relieved to hear she didn't accept the cash — and for her loyalty, he planned on rewarding her for her silence.
"Thank you so much, thank you. Thank you so much," the male caller says on the May 29 recording. "'Cause they're going to lie and manipulate with you with everything, trust me I deal with the media all the time. Just please don't. If it was $5,000 they offered you, I promise over time I will make sure you get that $5,000.
Article continues below advertisement
"You're making me feel so much better now because you said you didn't say anything," he says. "Just tell him no, just keep saying no, whatever you do."
The caller sounding like the Kendra On Top star, 31, also swore on his children multiple times in an effort to gain her sympathy and trust. Baskett has two kids, Hank, 4, and Alijah, two months.
"I will give you the word on my children. I just don't want to lose my family," the caller said.
The Baskett sound-alike even told her to get rid of any evidence linking the two of them.
"Just delete 'em all… You're the only one that can do anything. As long as you deny everything, then we are good. As long as you and I deny everything," he says.
"You didn't say anything to to them to confirm?" he continues asking.
"No, I didn't say anything to them!" London says, raising her voice.
"Nobody took a picture of us that day. Your roommate didn't?" he says, concerned.
Article continues below advertisement
And just moments after hanging up the phone, the man – who RadarOnline.com has learned called from multiple numbers, including a pay phone and an unlisted 747 area code – immediately called her back to ease any concern over the press inquiries.
"Don't be nervous or upset. That's what they do at any time, they call a lot and then they stop. Okay?" he says. "So don't let them bother you. I promise, I promise you within a year I will make sure you're taken care of periodically."
He then flip-flopped and said he'd try to get her the money in fewer than a couple months, even asking London if she trusted him.
"It can't be all upfront. But I will make deposits to you periodically, okay," he said. "And it'll be less than a year. A couple months, less than that. Okay? Do you believe me?
"Hey, I give you the words on my kids. Okay?"
"I'm not going to do anything. I never even was, it was just like they were just calling me and asking me like, I don't know, I don't even want to talk about it anymore," London says, frustrated.
Article continues below advertisement
And because Baskett had already vowed to give her $5,000, London claims, he thought he'd throw in a little something extra, which didn't go over so well with his mistress.
"Okay, well, I apologize and I'm going to make sure to go somewhere and get you a gift certificate to a nice restaurant," the male caller promised.
"I don't need a gift certificate," she quickly responds, even more frustrated.
"Just frickin' send me some money, help me pay my rent," she quips.
But taking that amount of cash out of their bank would be a red flag on the home front, the caller said.
"S**t, I can't do that much now," he laughs. "It's because we have a shared account. So I will make sure you get that $5,000 very quickly. It'll be fast. I can't just do it right away because I can't take $5,000 cash out. I will make sure you are taken care of -- you swear to me that you're not going to say anything. I have to wait and see that this article does not come out."
Article continues below advertisement
London asks him to call her the following day, but he uses his family obligations as an excuse.
"I have my daughter's doctors appointment and school for my son. I will be dropping you $400 here and things like that until you get all your money," he says.
As London keeps asking when he'll get back in touch with her, the caller dodges a permanent date.
"Are you pissed at me now? I just don't want you to be upset. Because you're a good person. I don't want you to be in the middle of this," he adds. "I will be in touch, I promise."
Article continues below advertisement