The Ultimate Betrayal! Kendra Wilkinson's Husband Hank Baskett Cheated On Her With A Transsexual — While She Was PREGNANT! — Sources Claim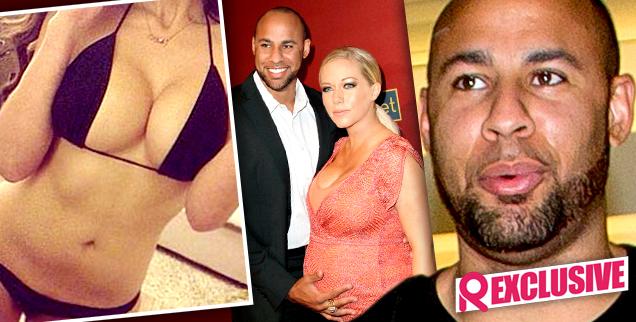 Article continues below advertisement
The explosive claims come just weeks after Wilkinson gave birth to baby daughter Alijah, and following RadarOnline.com's exclusive report that Baskett, 31, was seen leaving the marital home and checking into a hotel.
According to an insider, Wilkinson, 29, was roughly eight months pregnant when Baskett's sordid affair unfolded!
"Hank first met up with the woman around April 22 in Sherman Oaks, California," an insider reveals. "He called her twice before they met in person. He said he'd seen her YouTube videos online, and he couldn't believe that her photos were real."
Baskett used a fake name when organizing the encounter, the source says, and claimed he had never been with a transsexual before when the couple finally met up at the woman's home.
During their first romp, "They mutually masturbated her and he touched her breasts and penis," the source claims. "The entire encounter lasted probably about 15, 20 minutes."
"Before leaving, he gave her almost $500 and told her he wanted to stay in touch," the source claims.
Article continues below advertisement
And he stayed true to his word. According to the source, "They spoke a couple times after their first sexual encounter. Hank always called from different numbers, and at least once from a pay phone."
"After the Casper Smart transsexual controversy, he started to get freaked out and paranoid she would say something, and called her six times in one day to plead with her not to spill," says the source.
"He promised he would take care of her financially, and even left her $2,000 in a coffee cup at her house. He promised her $5,000 to keep her mouth shut, and even threatened to kill himself if the story got out!"
Now, the insider says, "Hank thinks Kendra knows and she wants to leave him!"
Both Baskett and Wilkinson did not return multiple requests for comment.
For more on this breaking story, stay tuned to RadarOnline.com!
Article continues below advertisement
Article continues below advertisement