Exclusive
ONLY ON RADAR: Kendra Told Me 'I Hope You Die!' Wilkinson's Mom Patti Breaks Her Silence On Bitter Fight & Fractured Relationship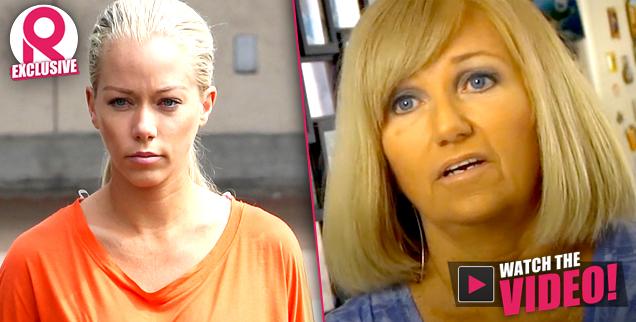 Article continues below advertisement
Recalling that the last time she spoke to her 28-year-old daughter on October 17, 2013 she was told "I hope you die." After that explosive conversation their relationship ended.
"It really upsets me," Patti admitted about the silence she has suffered through for seven months. "It really dug deep. It really was hard to take."
Patti told RadarOnline.com that she did not hear personally from Kendra about her second pregnancy and instead learned the news online so she posted a simple note on her own Facebook wall that read, "I hear from Kendra's fans that she's pregnant again, I'll congratulate her tonight with a phone call. "
Returning home from work that evening, Patti received the last call she has ever had from Kendra, who "ripped" into her mom asking "What are you writing on Facebook?"
"We've had a very strained relationship for the last four or five years," Patti told RadarOnline.com and said the phone call was "the icing on the cake."
According to Patti, Kendra crossed a line during that call.
"On the phone that day in October she did tell me she hated me, she called me all kinds of names. She ended it with 'I hope you die.' I wouldn't tell my worst enemy I hope you die. Much less your mother," she said.
Article continues below advertisement
Often appearing with her daughter on The Girls Next Door, the hit reality show where Kendra lived in the Playboy Mansion, Patti said those were the golden years for their relationship.
It was when Kendra left Hef's house and met Hank Baskett that Patti and her daughter began to grow apart.
"Hank seemed kind of controlling. That kind of bothered me. I always told Kendra 'Do not let anybody control you, particularly a man.' I don't think she liked that I had a motherly instinct to protect her," Patti told RadarOnline.com.
Being shut out from her daughter's life has been heartbreaking for Patti.
"I am not happy not talking to Kendra. I don't understand her thinking. I asked her in October, 'Why do you hate me?' She couldn't answer that."
Speaking directly to her daughter, Patti told RadarOnline.com that she would like her to come to her house, bring the children and talk over their problems.
"I don't want fame. I don't want fortune. I don't want any money from her. I don't want my own show. I want my family," she said. "That's the only thing I want."
Kendra's rep did not return RadarOnline.com's repeated request for comment.
Watch Patti Wilkinson's exclusive interview with RadarOnline:
radar_embed service=5min.com src="http://pshared.5min.com/Scripts/PlayerSeed.js?sid=1126&width=570&height=351&playList=518255052"